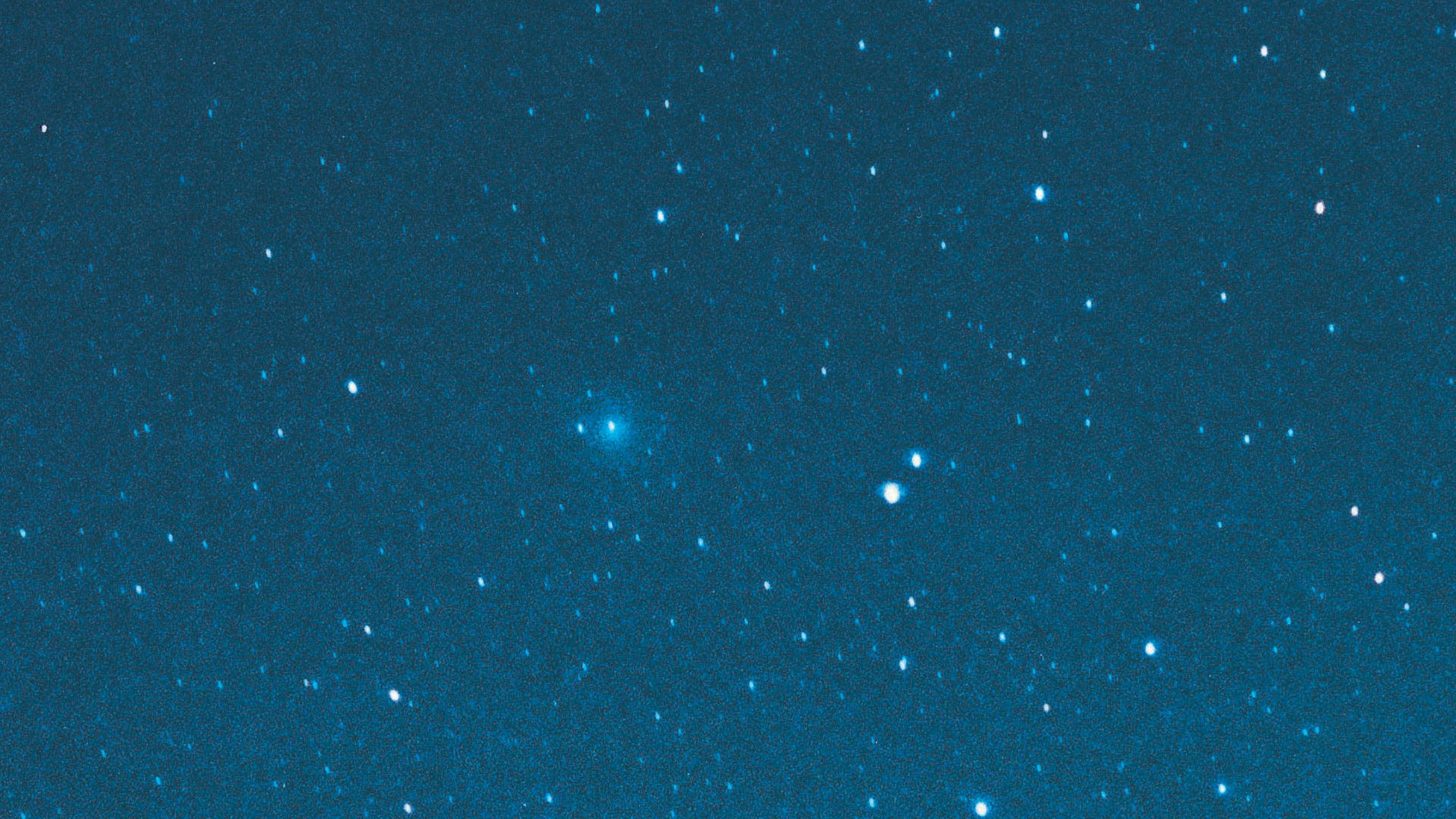 Forty years ago this month, a sight stopped the heavenly sight – literally a clap of thunder.
A brand new cometwhich for several days made headlines around the world because of its exceptionally close passage to Earth: a distance of less than 3 million miles (4.8 million km), or about 12 times the distance of the Earth to the moon.
In fact, when the comet was first sighted on April 25, 1983, it was not with human eyes or a telescope, but with a Satellite: IRAS, the acronym for InfraRed Astronomical Satellite, launched from Vandenberg Air Force Base last January and placed in an orbit of 560 miles (900 km) around Earth. The satellite was a joint venture between Britain, the Netherlands and the United States and was the first space telescope to survey the whole sky at infrared wavelengths. Its main purpose was to catalog the thermal "signatures" of asteroids as well as to observe the processes involved in the birth and death of stars.
Related: Comets: Everything you need to know about space's 'dirty snowballs'
First seen by a satellite
When the IRAS satellite picked up a fast-moving object on April 25, it was first assumed to be an asteroid. But then, just over a week later, on May 3, Japanese amateur astronomer Genichi Araki reported the discovery of a new comet in the constellation of Draco the Dragon at the Tokyo Observatory. This was followed by a sighting by George Alcock, a well-known British comet-watcher, who scanned the sky with 15 x 80 binoculars. Surprisingly, Alcock – who had already discovered four other comets – was inside his house and watching through a closed window, when he fell on the comet that Araki had seen seven hours before!
It soon became increasingly clear that the object discovered by IRAS was actually not an asteroid, but the same comet discovered by Araki and Alcock. It was therefore deemed appropriate to name Comet IRAS-Araki-Alcock. When Araki and Alcock sighted it, the comet was glowing at sixth magnitude – the threshold of visibility for someone without using optical aids under dark, clear skies.
Become bright…and close!
Once a preliminary orbit for the comet had been worked out, two things had been determined.
First, inherently, it was a relatively small comet, probably measuring no more than 2 or 3 miles (3 or 5 km) across. And yet, over the next week it was predicted to rapidly brighten more than 60 times, possibly to second magnitude, as bright as Polaris, the North Star.
But for something like This to arrive, it would have to approach very close to the Earth. And indeed, calculations indicated that it was destined to miss our planet by just 2.88 million miles (4.63 million km) on May 11, 1983, making it the closest approach of all. comets never observed, with the exception of another comet named Lexell – and that was in 1770!
Although IRAS-Araki-Alcock makes its closest approach the sun (called perihelion) on May 21, 1983, at a point just inside the earth's orbitit was during the period from May 4 to its closest approach to Earth (perigee) on May 11 that the comet generated enormous worldwide interest.
In a way, it was like a call to arms for astronomers. The combination of a comet passing extremely close to Earth and appearing in a dark sky (the new moon was May 12), while passing a series of familiar and easy-to-find celestial landmarks closely on successive nights, s went very well with the main news media.
Busy busy busy!
Looking back, maybe a little Very good . . .
At the Central Astronomical Telegram Bureau (CBAT) in Cambridge, Massachusetts – the clearinghouse for astronomical discoveries worldwide – news of comet IRAS-Araki-Alcock spread like wildfire. According to office manager Dr. Brian G. Marsden (1937-2010), he and his small staff were "absolutely overwhelmed" by hundreds of calls from journalists, planetarium staff, professional and amateur astronomers, and even the curious "man on the street", all asking for the latest information on the approaching comet. When he was head of CBAT, Dr. Marsden clearly considered the passage of this comet "the busiest period in the history of the office".
Probably the question journalists asked the most was, "Are we in immediate danger of collision?" (No!).
A Close Encounter Timeline
May 9, 1983: The comet, now shining as bright as third magnitude, could be found passing near the bright orange star Kochab in the Little Dipper's bowl; the motion of the comet relative to the star was quite obvious. In less than two hours, IRAS-Araki-Alcock appeared to approach Kochab, eventually passing within half a degree of the star, then gradually moving away from it. It was like looking at the minute hand of a clock. From anywhere north of the Tropic of Cancer, the comet was circumpolar, meaning it was visible in the sky all night. Essentially, we were looking directly from Earth at the "underside" of the comet.
May 10, 1983: It formed a broad, more or less equilateral triangle with Dubhe and Merak, the famous "pointer stars" in the Ursa Major basin, and appeared high in the north-northwest sky to American observers. Sharp-eyed skywatchers could find the comet without binoculars less than an hour after sunset.
May 11, 1983: The day of its closest approach to Earth – revealed the comet remarkably close to the popular star cluster Beehive in the Cancer constellation, although the comet is incomparably brighter, peaking at around magnitude +1.5. A narrow gas tail was recorded in many photographs, but visually through binoculars and telescopes, only the comet's diffuse head (called a coma) was visible. And seen against a dark sky, it looked absolutely enormous, measuring about three degrees in diameter; equal in apparent size to approximately six full moons! Through large telescopes, fascinating structures have appeared to illuminate the inner coma.
With IRAS-Araki-Alcock now so close to Earth, there was value in trying to bounce radar signals off it. The 1,000-foot (305-meter) radio telescope in Arecibo, Puerto Rico, and NASA's Jet Propulsion Laboratory in Goldstone, California, were successful in obtaining such radar returns, which were used to provide details on the radius, rotation and composition of the comet's nucleus.
May 12, 1983: Now rapidly moving away from Earth, the comet – making its farewell appearance for northern hemisphere observers – could be found low in the southwestern sky after sunset, having rapidly dimmed in brightness at the third magnitude. The next evening it sank below the horizon before the end of evening twilight. The show had ended almost as quickly as it had started.
Our next chance?
Will we ever have another chance to see a comet pass so close to Earth in the foreseeable future?
Maybe.
Close approaches of comets to Earth are rather rare. The approach of a comet within 9 million miles (14.5 million km) of our planet occurs – on average – about once every 30 to 40 years. For a comet passing within 5 million miles (8 million km) of Earth, such a very close approach is even rarer, occurring about once every 80 or 90 years.
So you can see how unusual the very close approach of less than 3 million miles (4.8 million km) to Earth was in the case of IRAS-Araki-Alcock.
Interestingly, however, since 1983 there have been several comets – or fragments of comets – that may have approached Earth even closer. A tiny comet, P/SOHO 5, 'may' have approached within 1.1 million miles (1.7 million km) of our planet on June 12, 1999, although this value is considered highly uncertain .
Another, 55P/Tempel-Tuttle — the comet which produces the annual Leonid meteor shower – was recently determined to have passed 2.1 million miles (3.4 million km) from Earth on October 26, 1366.
It would seem that only small dark comets make exceptionally close passes of Earth, but with one notable exception: Halley's Comet.
On April 10, 837, the most famous of all comets passed just 3.1 million miles (4.9 million km) from Earth. Seen from China, Japan and Europe, the comet shone as brightly as Venusaccompanied by a tail that extended over 90 degrees into the sky.
Oh, to see a comet like This in our lifetime!
And looking far ahead, until May 7, 2134, Halley's Comet will pass within 8.6 million miles (13.8 million km) of Earth, likely shining as bright as Jupiter and again displaying a spectacularly long tail.
Something our great, great, great, great-grandchildren can look forward to.
Joe Rao is an instructor and guest speaker at New York's Hayden Planetarium. He writes on astronomy for natural history reviewTHE Farmers Almanac and other publications.