Apple and iTunes have removed "Justice For All", the song on which former President Donald Trump collaborated with the Jail Choir J6from all their platforms.
Kash Patel, Trump's former White House official, who released the March 10 "Justice For All" music video drew attention to Apple's removal of the song on Thursday.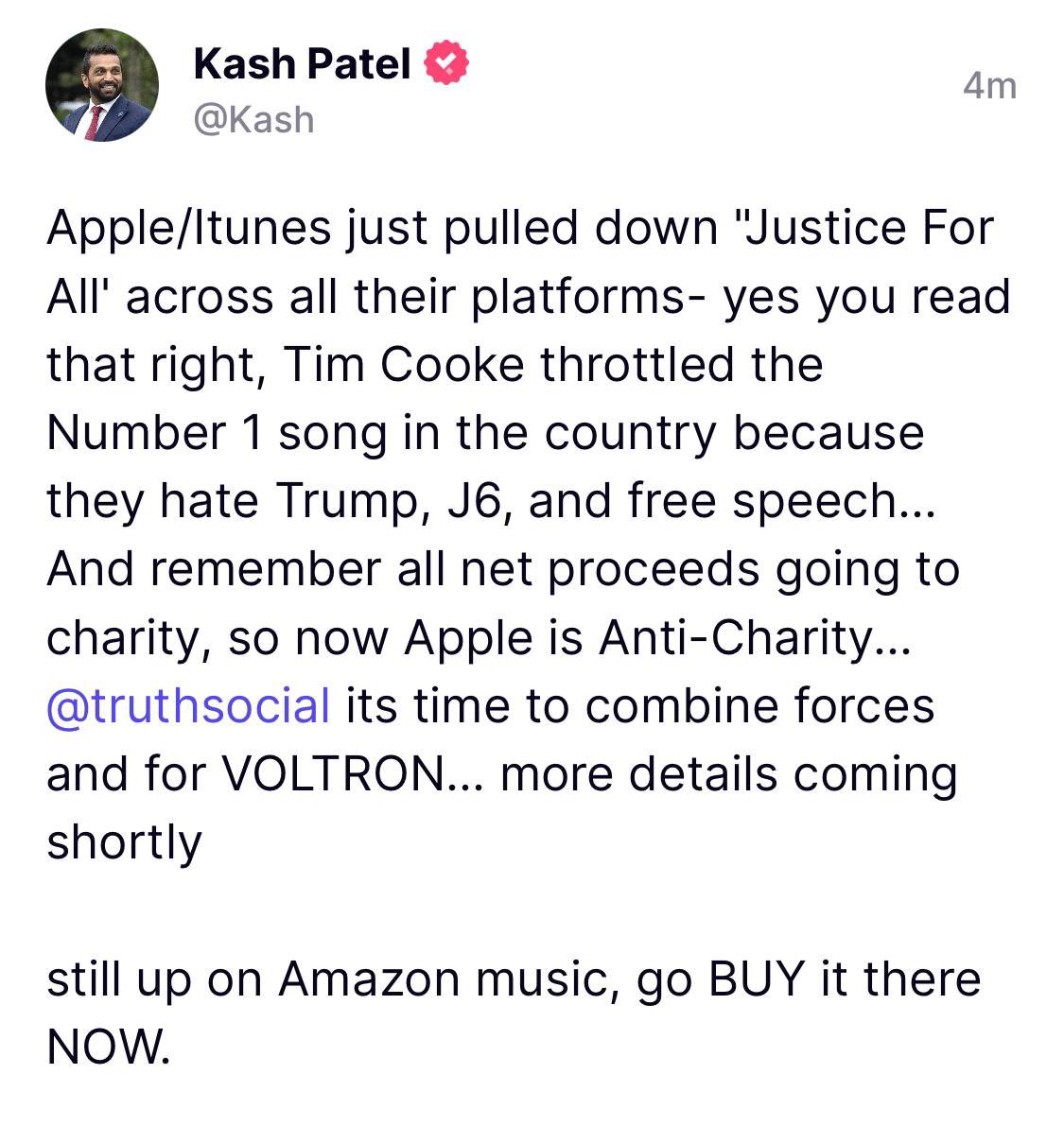 Every night for over 750 days, January 6 political prisoners sing the national anthem at 9 p.m. from their prison cells. These prisoners were held in jail by Joe Biden, Merrick Garland and the DOJ without trial.
The duo featuring the former president and the J6 Prison Choir hit No. 1 on iTunes' Top 100 list on March 11, evicting pop star Miley Cyrus from the coveted spot immediately after their release.
SHOW:
THE Jail Choir J6a group of men who were convicted after protesting at the United States Capitol on January 6, 2021, are featured in "Justice For All" singing "The Star-Spangle Banner" from prison.
Trump is heard in clips reciting the Pledge of Allegiance.
The song reaches its climax when the inmates chant "USA!" UNITED STATES!"
The J6 prison choir reportedly asked Trump to record the audio for the track. He agreed and recorded the audio at his residence in Mar-a-Lago.
Patel and conservative commentator Ed Henry collaborated on the project.
The money raised from the song, which was on sale for $1.29 on iTunes, will be used would have go to the families of J6 political prisoners.
DOWNLOAD #J6PC

ALL PROCEEDS GO TO J6 FAMILIES 🇺🇸

THANKS, @realDonaldTrump!https://t.co/jHrthoo5Yg

— Grace Chong 🇺🇸 (@gc22gc) March 10, 2023
DOWNLOAD NOW! – AT J6PRISONCHOIR.com
Trump, who announced his re-election bid in November, maintains he would "very strongly and very favourably" consider pardoning all J6 defendants if he were to return to the presidency.