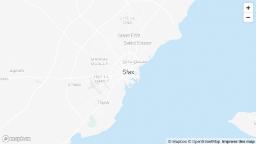 At least 19 migrants from sub-Saharan Africa died when their boat sank off Tunisia as they tried to cross the Mediterranean to Italy, a human rights group said on Sunday.
In the past four days, five migrant boats have sunk off the southern city of Sfax, leaving 67 missing and nine dead, after a significant increase in boats heading for Italy.
The Tunisian coast guard rescued five people from the boat off Mahdia after a trip from the beaches of Sfax, said Romadan ben Omar, head of the Forum for Social and Economic Rights (FTDES).
Tunisian authorities were not immediately available for comment.
The coast guard said it had stopped around 80 boats heading for Italy in the past four days and detained more than 3,000 migrants, mostly from countries in sub-Saharan Africa.
The coast near Sfax has become a major departure point for people fleeing poverty and conflict in Africa and the Middle East in hopes of a better life in Europe.
The latest disaster comes amid a campaign of arrests by Tunisian authorities of undocumented sub-Saharan Africans.
According to UN data, at least 12,000 migrants who arrived in Italy this year left Tunisia, compared to 1,300 in the same period of 2022. Previously, Libya was the main point of departure for migrants.
According to FTDES statistics, the Tunisian coast guard prevented more than 14,000 migrants from leaving by boat in the first three months of this year, compared to 2,900 during the same period last year.
Italy's coastguard said on Thursday it rescued around 750 migrants in two operations off Italy's southern coast.
Europe risks seeing a huge wave of migrants arriving on its shores from North Africa if Tunisia's financial stability is not safeguarded, Italian Prime Minister Giorgia Meloni said on Friday. Meloni called on the IMF and some countries to quickly help Tunisia to avoid its collapse.