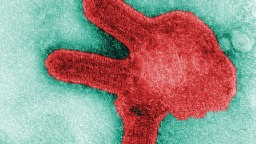 CNN
—

The United States Centers for Disease Control and Prevention is sending personnel to Africa to help stop outbreaks of Marburg virus disease and urges travelers to certain countries to take precautions. The CDC is also taking steps to prevent infections from spreading in the United States.
Equatorial Guinea and Tanzania are facing their first known outbreaks of Marburg virus, a viral fever with uncontrolled bleeding that is a close cousin of Ebola. This week, the CDC urged travelers in both countries to avoid contact with sick people and monitor symptoms for three weeks after leaving the region. Travelers to Equatorial Guinea should take enhanced precautions and avoid non-essential travel to provinces where the outbreak is ongoing, the agency said.
In the United States, the agency will post notices at international airports where most travelers arrive, warning them to watch for symptoms of the virus for 21 days and seek treatment immediately if they become ill. They will also receive a text reminder to monitor symptoms.
CDC implements "centrally-led" emergency response; it's not as comprehensive as when the CDC lifts its Emergency Operations Center, as for Covid-19 and mpox. But it will refocus the efforts and attention of staff at its National Center for Emerging and Zoonotic Infectious Diseases to respond to the outbreaks, which are occurring in two countries on opposite sides of Africa, indicating that the deadly haemorrhagic fever spreads.
Equatorial Guinea, on the coast of West Africa, declared an outbreak of Marburg virus disease in mid-February with cases spread across several provinces. As of March 22, Equatorial Guinea had 13 confirmed cases, including nine people who died and one recovered, according to the World Health Organization. Nine CDC personnel are on the ground. They have established a field laboratory and are helping with testing, case identification and contact tracing.
Tanzania, on the coast of East Africa, declared an outbreak of Marburg virus disease on March 21, with cases reported in two villages in the Kagera region, According to the CDC. As of March 22, Tanzania had eight confirmed cases, including five deaths. The CDC has a permanent office in Tanzania that helps fight the epidemic. It sends additional personnel to support these efforts.
Marburg virus is a rare and deadly virus that causes fever, chills, muscle aches, rash, sore throat, diarrhea, weakness, or unexplained bleeding or bruising. It spreads through contact with bodily fluids and contaminated surfaces. People can also catch it from infected animals. It is fatal in about half of the cases that get it. Other countries in Africa have already had to contain epidemics.
In its early stages, the infection is difficult to distinguish from other illnesses, so a travel history to one of these countries will be essential to help clinicians spot it.