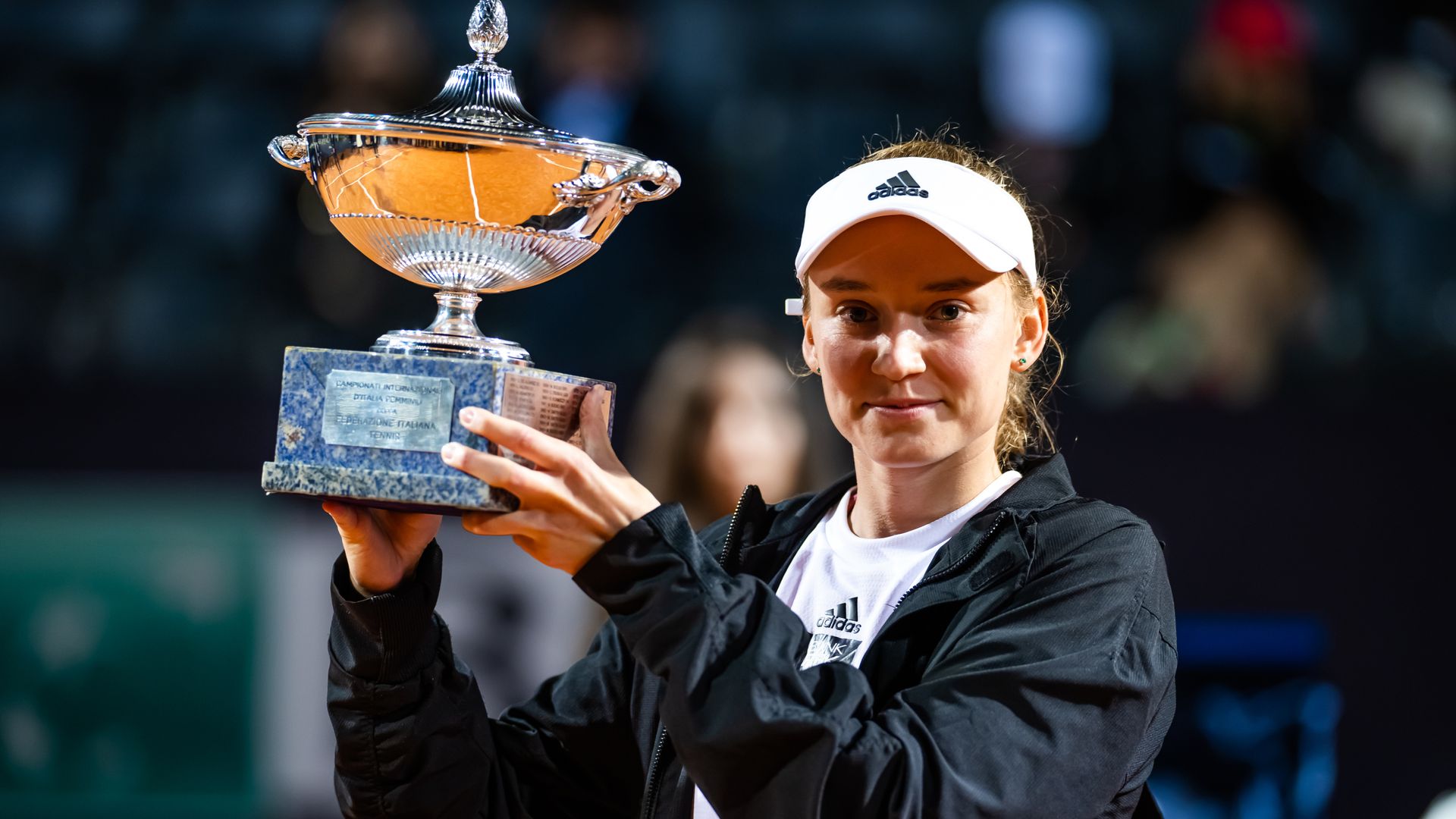 Elena Rybakina has been crowned WTA Italian Open champion after Anhelina Kalininia retired in the second set of a rain-delayed final due to injury in Rome.
The final began around 11 p.m. as spectators waited under their umbrellas for hours before the night session began.
When it did, Kalininia opened up in terrific fashion by breaking Rybakina after several deuces.
But the Kazakh started to show her quality and fought back with her own break in game six before breaking again in game 10 to win the first set.
Rybakina started the second set with a convincing hold as Kalininia sat down to talk to her doctor and after a very quick consultation the players shook hands to give the 2022 Wimbledon champion her biggest title on earth beaten, which will also see her climb to fourth place. in the WTA rankings on Monday.
It was the second time in the tournament that Rybakina had won after her opponent pulled out after Iga Swiatek was forced to retire in the quarter-finals.
After the victory, Rybakina said on the pitch: "I wish Kalininia a speedy recovery because she is a very good friend of mine and I am really happy with all her results. She did a good job and I hope that she will be able to recover for Roland-Garros.
"A big thank you to the crowd and everyone who stayed and watched until the end. It was not easy for us but not easy for you with all the rain today, so thank you very much for your support."
Kalininia said: "I'm really sorry that I couldn't play. I was trying to do my best but of course it's sport and I want to congratulate Elena not only for this title but for everything you have done. this year from Wimbledon, it's really inspiring and I hope to be able to reach your level one day.
"Good luck for the season, stay healthy and achieve your goals."
Rybakina will now head to Roland Garros confident that she can be as effective on clay as on the other two surfaces with her booming serve and groundstrokes.
"I think with my game I can play well on all surfaces," said Rybakina, who also reached the Australian Open and Miami finals this season.
"Maybe it's just that for clay I need to be more physically ready and have a lot of preparation for which I don't always have time after the hard-court season."
Rybakina reached the third round at Roland Garros last year and hoped playing in Paris would be easier this time around.
"The tournament is quite long. I hope I can go far. I have good memories of playing there," Rybakina said.
"Now I have more matches on clay, so it's a bit easier and there's a bit more confidence, definitely."
Kalinina, whose hopes of a maiden title were dashed due to a leg injury, said Rybakina has the qualities to succeed on clay.
"She serves at 200 km/h. She makes winners like nobody else on the circuit… anyone can win in Paris, but she has a good chance," Kalinina said.
"She's an incredible player, a top player. I'm sure if she's going to (play) like that, maybe the new world number one for sure."
The French Open begins on Sunday May 28.