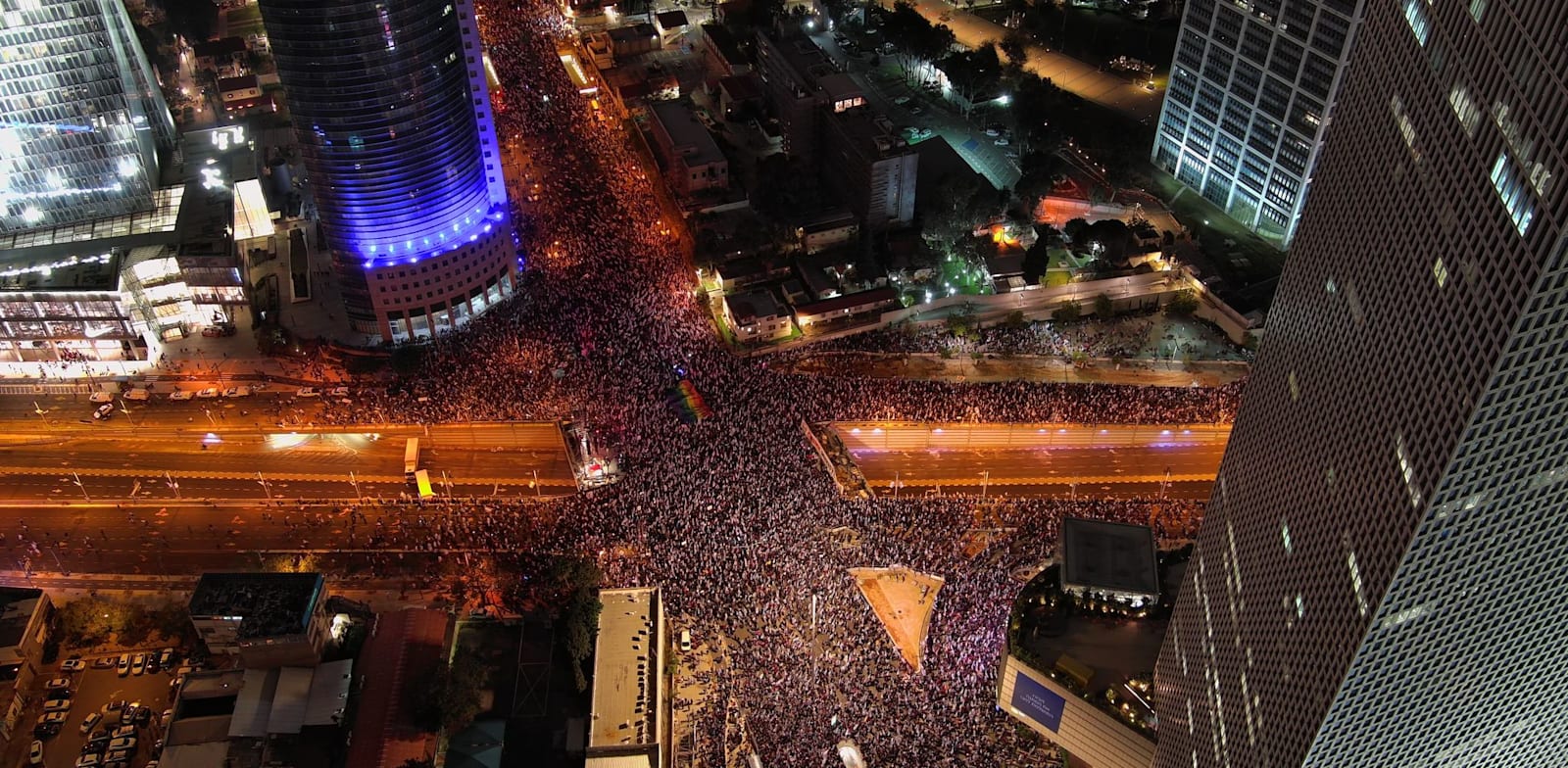 Mass protests against the government's judicial reform legislation continued around Israel in Week 11 last night. Former Bank of Israel Governor Jacob Frenkel spoke at the protest in Tel Aviv. "I am an Israeli who fears for the State of Israel and the people of Israel, and therefore I am here," Frenkel said. "I worked with Rabin, with Peres, and after that I worked with Benjamin Netanyahu. I worked with Arik Sharon, Ehud Barak and Olmert. This whole gallery of politicians never knew if I had voted for them, and none of them asked me. For all of them, I was a professional committed to law, the economy and the state.
"When I started 30 years ago, it was impossible to recruit investors. There was inflation and therefore investors did not want to invest. What a long way to become the startup nation! take the risk of losing our important human resource. We have heard from the head of the Mossad, the heads of the Shin Bet, the head of the Atomic Energy Commission, IDF officers, eminent academics. All have given warnings Who has the right to ignore this?
"We have so much to lose. All rating agencies, investors, economists in Israel and around the world are warning us of the danger we face."
Addressing Netanyahu, Frenkel said, "Only you have the power to prevent a slide into the abyss. Stop the madness now and recalculate the route."
Speaking at a rally in Herzliya, referring to Likud's proposals to appoint three Supreme Court justices this year to replace judges who are due to retire and then suspend judicial reforms, the party leader of National Unity, Benny Gantz, said: "They continue with political trickery. Now they want a "little date tour" – three judges and we'll stop. Let's stop and we'll talk, there's no other way to settle this. The situation threatens to degenerate into a civil war. We refuse to be enemies and we are not prepared to allow a politician to divide us."
In an estimate published by Channel 13, event management company Crowd Solutions put the number of attendees at the Tel Aviv rally at 175,000. Organizers were calling for 225,000. Tens of thousands of people took part in demonstrations in other parts of Israel.
About 20 Likud supporters carrying a sign reading "Left traitors" clashed with protesters in Tel Aviv. Police prevented anti-government protesters from reaching them. In Herzliya, a 57-year-old man was arrested after hitting a protester with his car. The protester was taken to hospital with minor injuries. Police also arrested a motorcyclist threatening protesters in Givatayim. Two of a group of about 50 protesters who tried to block the northbound Ayalon Highway were also arrested, as were seven protesters who tried to block Route 65 at Karkur Junction.
Published by Globes, Israel business news – en.globes.co.il – March 19, 2023.
© Copyright Globes Publisher Itonut (1983) Ltd., 2023.