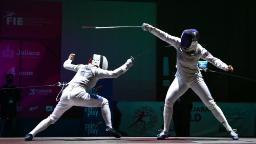 Reuters
—

The German fencing federation has canceled a women's foil World Cup after the sport's world governing body (FIE) reversed a ban on athletes from Russia and its ally Belarus, it announced on Thursday.
Athletes from both countries were banned from numerous international competitions after Russia invaded Ukraine last February in what Moscow calls a "special military operation".
More than 60% of nations voted to allow Russians and Belarusians to resume competition in FIE events at last week's extraordinary congress.
German federation (DFB) president Claudia Bokel, a team epee silver medalist at the 2004 Olympics, said the move had sparked "spirited discussions".
"Our solidarity goes to the Ukrainian people who are suffering from the war of aggression," Bokel said. "The German Fencing Federation accepts last Friday's decision.
"We now want to give a clear signal that we would have liked a different result and that we still see a large number of open implementation questions from the world federation, which makes it impossible to carry out the tournament."
The competition was scheduled for May 5-7 in Tauberbischofsheim. The fencing qualification process for next year's Paris Olympics is due to begin in April.
Russian Fencing Federation President Ilgar Mammadov said he was not surprised by the DFB's decision.
"It's not the first country, others will refuse," said Mammadov, a two-time Olympic gold medalist in team foil, as quoted by Russian news agency TASS. "I will not criticize my colleagues.
"Of course, we expected such decisions. Countries that cannot organize competitions on an equal footing will not organize them. There will be others, there are many.