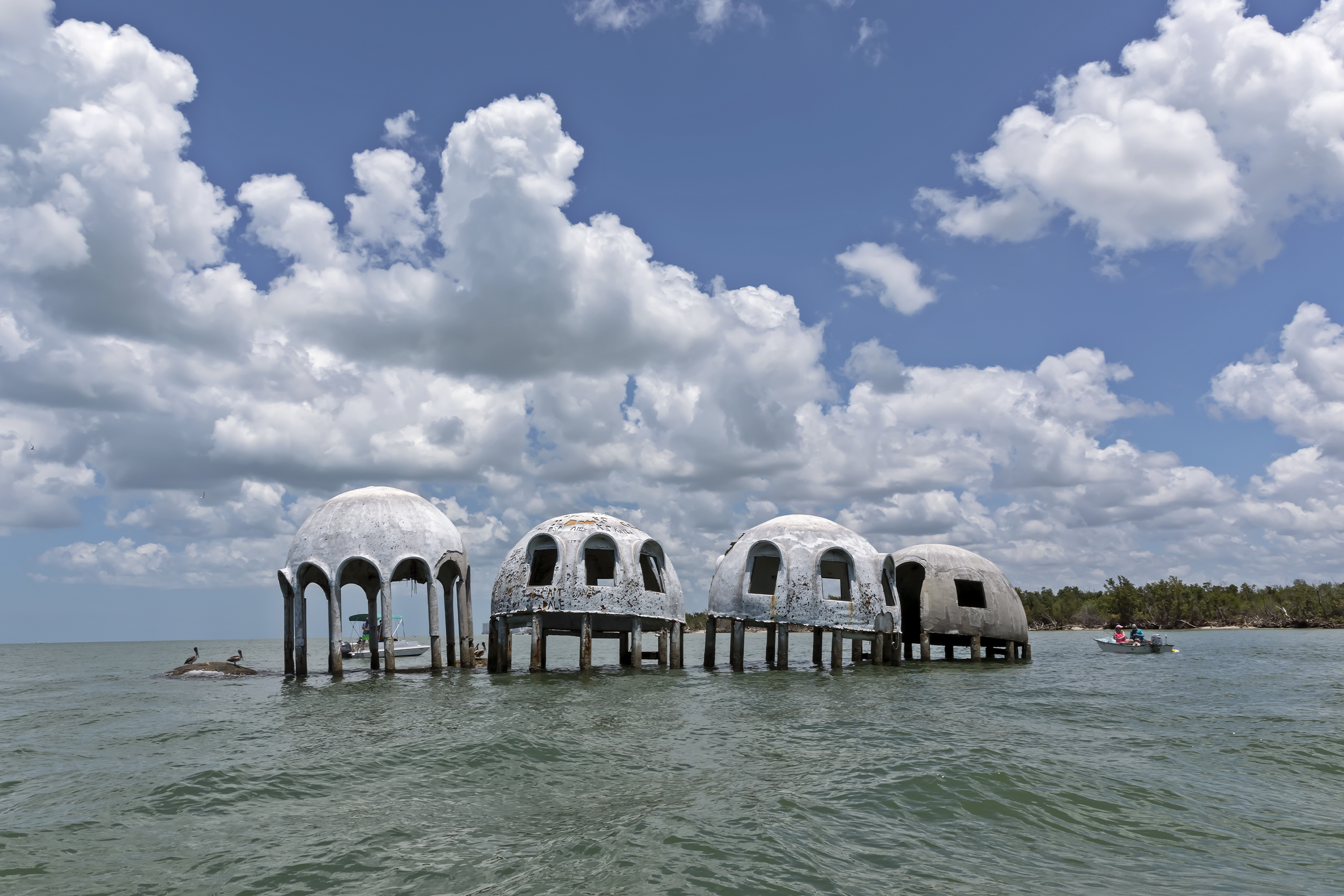 It was an architectural icon, an ancestor of hurricane preparedness, and a cautionary tale about building too close to shore.
The Cape Romano Dome House, completed in 1982 on a sand spit on Marco Island, Florida, has succumbed to the sea.
Hurricane Ian toppled what remained of the 40-year-old chain of six concrete-reinforced geodesic domes that were adjoining rooms in the 2,400 square foot modular home. Its spherical walls were built to deflect 150 mph winds that would level most conventionally designed homes.
The dome house was ahead of its time and a harbinger of storm-tolerant life until it was abandoned in 2007 after the beach it was built on eroded, leaving the domes on stilts about 100 meters offshore.
Two of the original domes collapsed after Hurricane Irma. The final four remained a chilling relic until last week. Then they went underwater.
Alex Demooy, owner of Naples-based charter travel company Breakwater Adventures, was among the first to photograph where the domes once stood.
"Everyone is pretty sad. He was there for a long time," he said in a phone interview from Naples on Monday.
Demooy was unsentimental about the structure, which for many had become an unsightly, poo-stained pelican perch. But every customer marveled at it, he said, and no one who saw it forgot.
So he posted a photo on Instagram. It garnered over 750 likes in two days. Another Instagram user's photo, captioned "RIP TO THE DOMES", drew nearly 2,200 likes on Monday afternoon.
"I knew it would happen one day. So sad," a viewer of Demooy's post said.
"I was wondering if they would make it," said another.
"So heartbreaking," wrote a third.
Although it will be missed by some, experts say the Romano dome home offered a cautionary tale about the dangers of building too close to shore as the planet warms. Not only is climate change making storms like Hurricane Ian worse, it is also raising sea levels and increasing the risk of coastal flooding.
Florida's southwest coastline has seen between 6 and 8 inches of sea level rise since 1990, data records show. A recently released report by NOAA projects that the region will experience an additional 1.5 feet increase by 2050 based on the current rate of greenhouse gas emissions.
"It's a clear sign of things to come, especially in low-lying areas that are unprotected," Jayantha Obeysekera, research professor and director of the Sea Level Solutions Center at Florida International University, told E&E. News in 2019 about the Romano Dome. residence.
"It demonstrates the power of the ocean, and I think it's a very telling example of how climate change and sea level rise will affect us in the future," Obeysekera added (climate wireNovember 18, 2019).
Demooy said he was not surprised to see the dome house fall underwater after a storm like Ian did.
"We were pretty sure when we got around the corner that he would be gone," he said of his discovery on Friday. "It was built to withstand hurricanes, but it wasn't built to withstand that."
Reprinted from E&E news courtesy of POLITICO, LLC. Copyright 2022. E&E News provides essential information for energy and environmental professionals.