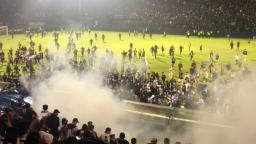 Jakarta, Indonesia
CNN
—

Two Indonesian football officials were sentenced to up to 18 months in prison by a court on Thursday for a fatal stadium crash last year, which killed more than 130 people and injured hundreds more in what was one of sport's worst disasters.
The sentences were the first convictions handed down by Indonesian courts for a tragedy that shocked the nation and sparked widespread anger at local police who fired tear gas into a dangerously overcrowded stadium in East Java province last October.
Abdul Haris, chairman of the organizing committee of football club Arema FC, was found guilty of negligence and responsible for selling too many tickets, exceeding the maximum capacity of the stadium. His sentence was significantly less than the sentence of more than six years in prison that prosecutors had requested from the court.
Arema FC security guard Suko Sutrisno was sentenced to one year in prison. The maximum prison sentence for negligence in this Southeast Asian country is five years.
Sutrisno told the court in January that he had only been a security guard for about three months when the tragedy happened, according to CNN affiliate CNN Indonesia. A freelancer paid $16.19 per game, he said he was not trained to provide security during football matches, CNN Indonesia reported.
Three police officers also charged with negligence will have their cases heard at a later date.
A number of Arema FC's 42,000 supporters ran onto the pitch after their loss to rivals Persebaya Surabaya, clashing with police and prompting security forces to fire tear gas into closed areas of the stadium – a crowd control measure banned by FIFA, world football's governing body.
Most deaths turned out to have taken place as panicked fans tried to flee the choking smoke, triggering a crush at the exits.
Several gates were still locked minutes after the referee blew the final whistle on the evening of the disaster, the Football Association of Indonesia said in a statement last year.
Game organizers and law enforcement officials have faced mounting criticism and allegations of mismanagement, with survivors and victims' relatives demanding answers.
"It was a big mistake," Andi Hariyanto, 32, who lost several family members in the crush, told CNN.
"Don't they know that there were a lot of women and children watching the game as well? I still do not understand. What did we do to make them want to shoot us?
Last year, Indonesian President Joko "Jokowi" Widodo pledged to "dramatically transform" sport in the football-mad country, adding that the football stadium where the crash took place would be demolished and rebuilt." according to FIFA standards".