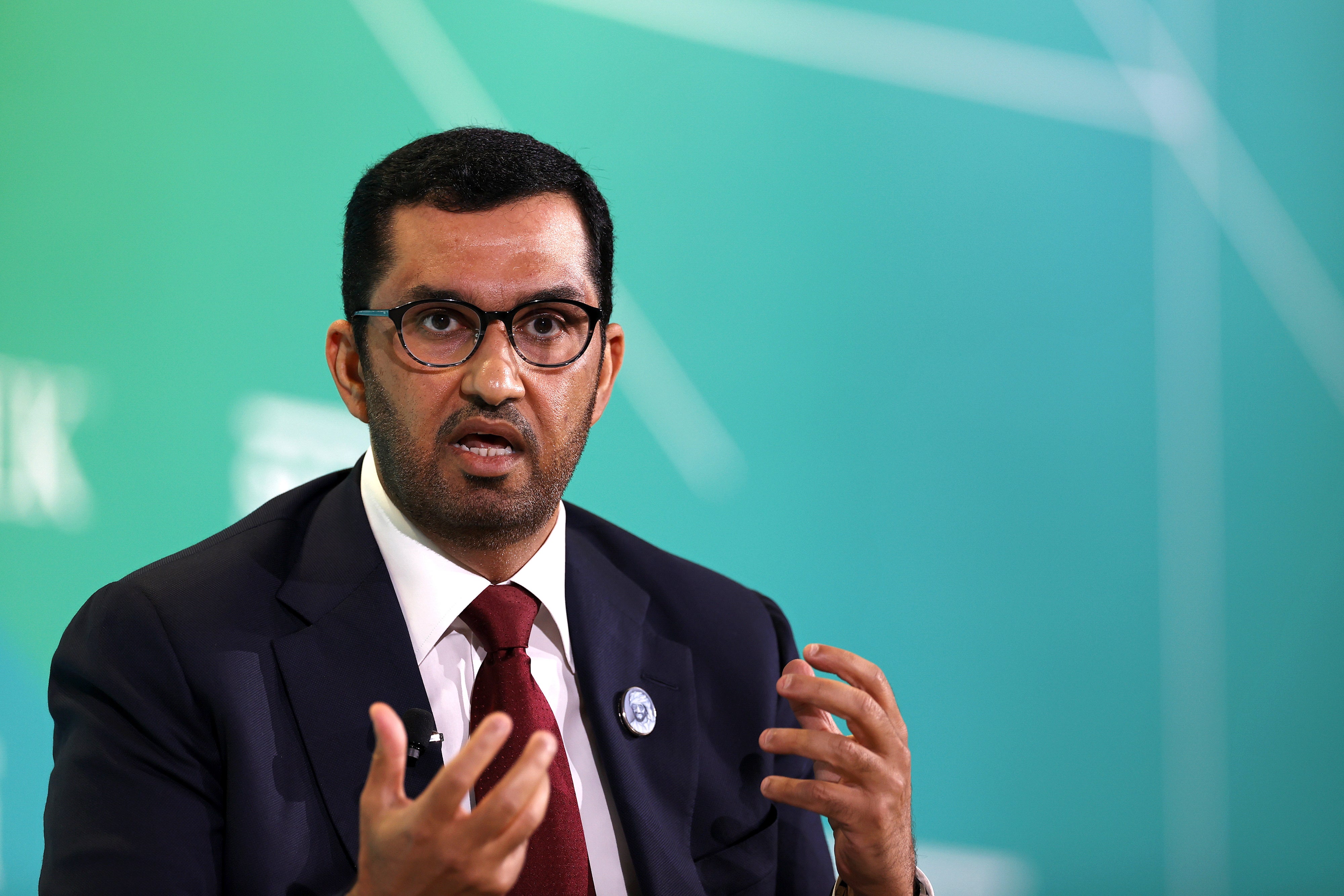 CLIMATE WIRE | When world leaders meet later this year to negotiate climate action, the urgency to cut global warming emissions will be greater than ever.
The world must now cut emissions by 60% by 2035 – compared to 2019 levels – to avoid increasingly severe heat, floods, drought and extreme weather that will make parts of the world unlivable. This is one of the main conclusions of the latest assessment by the United Nations Intergovernmental Panel on Climate Change, made up of the world's leading climate scientists.
This goal exceeds the 43% reduction by 2030 that countries aim for – and negotiate at the annual United Nations climate talks, known as the COP. It also highlights the need for radical action at a time when countries are already failing to meet their emission reduction pledges.
"It is very clear that countries will have to really accelerate the direction of travel. That's true for 2030. But 2035 puts a finer point," said David Waskow, director of the international climate initiative at the World Resources Institute.
The need for much greater action is likely to weigh on delegates when they gather for COP 28 at the end of November in the United Arab Emirates. The climate talks are where countries will assess their progress — or lack thereof — toward meeting their 2030 climate goals, a process known as the global stocktake.
Countries' response to this assessment will determine whether they can limit global temperature rise to the Paris Agreement's 1.5 degree Celsius target and eliminate emissions by 2050. And have clear timelines for 2030 and 2035 will be critical, Waskow said.
So far, the signs are not promising.
Even as the science has become more compelling, few countries, including the United States, have measures in place that would take them to the 43% emissions reduction needed by 2030 – let alone 60% in five years. later (climate wireMarch 21st).
A UN report last year found that global temperatures are expected to rise by 2.8°C under current country policies.
To provoke more action, UN Secretary-General António Guterres earlier this week demanded that rich countries achieve net-zero emissions by 2040, 10 years earlier than the target set by most. developed countries (green wireMarch 20th).
But this appeal is not binding. It also didn't elicit much reaction, apart from a recent comment by Dan Jørgensen, Denmark's climate minister, that the European Union could exceed its commitment to cut emissions by 55% by 2030.
Jørgensen spoke at a press conference as he hosted a meeting with dozens of climate officials to set the agenda for COP 28. Observers say the timing of the IPCC report may -be encouraged to reflect on what climate action countries should provide.
"The question is whether the political system is responding the way we need it to, with people rolling up their sleeves and saying how can we all work together to counter this common threat," said Alden Meyer, senior partner at E3G.
A major challenge: Many countries – including the host of this year's climate talks – are still being given a failing grade by climate monitors.
Climate Action Tracker, an independent analysis of climate policy, expects UAE emissions to increase by 2030 due to plans to increase gas consumption. The country's current climate targets would see emissions flatten but not fall, when they are to be cut by nearly half.
"Ideally, the UAE would take the lead on this as host of COP28 and come up with a target that supports it – coupled with further reductions to 2035 and beyond," said Mia Moisio, who monitors the Middle East for Climate Action Tracker, in an email.
The UAE is heavily dependent on its oil and gas sector. But the country has made considerable efforts to diversify its economy and could potentially lead the way for other oil and gas producing countries, Moisio added.
"Resolving these issues and agreeing a global phase-out of fossil fuels at COP28 would be a big step forward," she said.
"We are not finished in 2030"
The latest IPCC climate assessment does not just focus on the need to drastically reduce emissions. It also highlights the need for greater equity between rich and poor countries, the importance of investing in resilience, and the availability of many of the tools needed to prevent the planet from overheating.
But the main finding of the report emphasizes the message that emissions are simply not falling fast enough. The 2035 emissions reduction target brings that message home – an intentional move by the report's authors.
The conclusion that the world must reduce its emissions by 60% by 2035 appeared in another IPCC report last year. But it only landed in this week's climate rating after much wrangling, according to a summary of the session by the Earth Negotiations Bulletin, which reported that China initially wanted to remove the 2035 projection but had agreed to include it as a table.
"Given our assessment of the relevant information and listening to the interests of country representatives, we thought it would be useful to add these figures explicitly in the report," wrote Detlef Van Vuuren, professor at the University of Utrecht and author of the IPCC assessment. in an email. "Hopefully the number can guide governments in further decision-making."
In 2025, countries will have to set new climate targets known as Nationally Determined Contributions. But there won't be another IPCC report until 2029, so this week's assessment was the last chance for scientists to show how much faster countries needed to reduce their climate pollution.
"The important thing to remember here is how far off track we are. Emissions continue to rise," said Rachel Cleetus, director of climate and energy at the Union of Concerned Scientists.
"We are not done in 2030," she added. "That will be the work of the next decades."
That doesn't mean the next seven years aren't still vital, experts say. This is when the most urgent and sweeping changes are needed to prevent the world from exceeding the Paris Agreement's 1.5°C target.
But 2035 sheds light on whether countries are thinking beyond that decade about the deep transformations needed to get them to net zero emissions by mid-century.
"We always knew the path to net zero would get steeper over time, and that reflects the fact that we haven't done a great job of reducing emissions to date," said Kate Larsen, partner at RhodiumGroup.
"We also know that what we need to do to get to net zero has always been about making a lot of progress in this decade," she added.
This means starting where cuts are easiest, such as in the electricity sector. But it also means laying the foundation for the emission reductions that will be needed after 2030. These efforts include investing in low-carbon fuels and technologies for hard-to-decarbonise sectors, like heavy industry and manufacturing. aviation. It also means investing in research that would help reduce emissions from agriculture.
"Unless we start to drastically reduce emissions over the next few years…the amount of effort the world will have to expend to get to net zero will continue to increase over time," Larsen said.
The challenge, she said, will be to get countries to step up and tackle an even bigger goal as they struggle to achieve the one they already have.
Exceeding the 1.5C threshold – even temporarily – would have serious consequences for many of the world's most vulnerable people. But the report stresses the need to continue pushing for deep cuts even if the Paris target is exceeded.
"Meeting the commitments by 2030, 2035, 2050 will be a huge challenge. Failure to meet these commitments will lead to even greater challenges for humanity," said Max Holmes, president of the Woodwell Climate Research Center.
It means finding a balance between competition and collaboration that can help the world achieve its climate goals at a time of growing divisions.
"We have to be prepared to work really hard, to really think radically, but with a lot of respect and always humility in our exchanges," said Yamide Dagnet, director of climate justice at the Open Society Foundations and former negotiator on the climate. .
"And I think there have to be a lot of signals before the COP, during the COP and then, of course, to maintain them afterwards. It is very important that we do not see this COP as an end point", a- she declared.
Journalist Chelsea Harvey contributed.
Reprinted from E&E News courtesy of POLITICO, LLC. Copyright 2023. E&E News provides essential information for energy and environmental professionals.