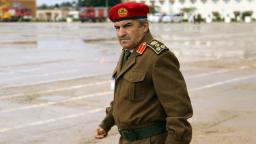 CNN
—

A Libyan armed group claims to have found the barrels of natural uranium which has disappeared in southern Libya.
A spokesman for the so-called Libyan National Army (LNA), Khaled Al Mahjoub, said on Facebook that the barrels were found 5 km from a warehouse where they were stored.
A video posted by Mahjoub showed a man wearing a hazmat suit vocally counting 18 blue barrels which are believed to contain the missing natural uranium. The IAEA had indicated that "10 drums" were missing from the warehouse.
A total of 2.5 tons of natural uranium in the form of uranium ore concentrate have been reported missing by the International Atomic Energy Agency [IAEA] this week, after inspectors conducted verification activities on Tuesday.
"We are aware of media reports that the material has been found, the Agency is actively working to verify it," the IAEA said Thursday. CNN has contacted the IAEA to confirm whether the barrels found by the LNA are the same as those reported missing by the UN nuclear watchdog.
The barrels were stored in a guarded warehouse in southern Libya, but guards were stationed further away due to radioactivity concerns, Mahjoub said in a Facebook post.
A barrel-sized hole was discovered in the side of the storage warehouse, Mahjoub added.
Mahjoub claimed that a Chadian group might have been responsible for stealing the barrels thinking they were weapons, but abandoned the barrels after not knowing correctly what was inside. The LNA has provided no evidence to support this claim.
The group also said the forces were tasked with guarding the warehouse after an IAEA team visited the warehouse in 2020 and marked the barrels containing uranium.
THE IAEA said the missing uranium posed "little radiation hazard but required safe handling".
"Loss of knowledge about the current location of nuclear material may present radiological risk as well as nuclear security concerns," the IAEA said ahead of the LNA statement.
Libya has seen little peace or stability since the 2011 NATO-backed uprising against Muammar Gaddafi. The country split in 2014 between warring factions in the east and west.