The view varies depending on who is coaching Arsenal's season. Would it be a failure to have been perched on the top of the Premier League for 248 days to cede the title to Manchester City?
Or is it a triumph of process that a side largely untold for the top four forced Pep Guardiola's machine into unseen gear, marmalizing everything in front of them?
Perspective is a rare commodity in football, but Mikel Arteta has it in spades.
Saturday May 20 5:00 p.m.

Kick off 5:30 p.m.

"I think everyone would describe the situation in different words," said Arsenal manager Sky Sports News from the club's base in London Colney.
"But probably the same people who thought we were going to finish sixth or seventh in the season are now saying finishing second would be a failure. You have all the answers in there."
Arteta was measured, accepting that Arsenal had created an extraordinary opportunity to thwart City's monopoly on the league while acknowledging that his team are further along in their development than expected.
Gary Neville assesses why Arsenal have fallen behind Manchester City in the Premier League title race.

They have dropped just seven points in their first 19 Premier League games this campaign but have dropped 20 in their next 17.
During an extensive meeting with sky sportsArteta reflects on the vertigo and eviscerating nature of this reality.
What are your immediate thoughts?
The season has been long and obviously a lot has happened because it's 10 and a half months or 11 months of preparation because there's a World Cup in between. It was very emotional because of how far we've come and where we still find ourselves today. It was really exciting, but for sure it was very demanding in terms of energy and work.
How did you handle that, the demands of it, from a personal perspective?
Arsenal manager Mikel Arteta says his players can be proud of all they have achieved this season but must not lose focus with two games to go because they can still be champions Premier League if the results go their way.

When things are going well, it's always much easier. We have an amazing group of people and players, so it's a joy to be part of this team and I've really enjoyed it.
There are difficult times, of course they are; there are a lot of hours, a lot of demands, and we are all perfectionists. I want to make the best of every situation and it's complicated. But overall, I think it's very satisfying.
You say that when things are going well, it's easy. It's been a tough few weeks, is the hardest thing trying to lift our spirits and offer that reminder of how far this team has come when there's that feeling of discouragement and disappointment?
Speaking on Monday Night Football, Jamie Carragher analyzes where it went wrong for Arsenal at the back and takes a closer look at William Saliba's impact down the flank.

Probably yes. I think that's the thing I struggle with the most: when you feel like you've let someone down, you know, when you've created certain expectations and you're not good enough to meet them.
But then we also have to put into perspective where we are, the team we are competing against and where we are with two games to go. So there are still a lot of things. And at the end of the season we can probably assess what we did best.
How do you ensure players aren't listening to outside voices, focusing on what you and your backroom staff have to say?
Impossible, I would say because they have telephones, they have TV, they have radio, and in the end they are constantly fed.
They are also fed by their families so in the end we try to find this balance and to ensure that the messages we want to convey or the messages we believe are good for them have more weight than the others. .
When you were a gamer, could you muffle outside noise?
Arsenal manager Mikel Arteta explains why he brought a chocolate Labrador called Win to the training ground and says she has the ability to change the mood to a positive one in an instant

A hundred percent? No, I think it's very, very difficult because you have too many sources of information around you. But staying away from those things, I was pretty disciplined at that. Yeah.
I want to talk about process because I think people get so bogged down and mesmerized by the end result that they don't see all the steps involved before that. Tell me about that trip you took Arsenal on.
It's first of all a very unified vision of what we want to achieve, what the objectives are, and then to really define how we are going to do it. And then you need discipline.
You need a lot of people from the property or athletic director, coaching staff to constantly remind you what you said because you can get very confused.
The competition is huge, the pressure is huge, and you want to take shortcuts at many times, which you can sometimes do. Sometimes you can really put what you're trying to do in a very difficult scenario and we didn't.
Arsenal boss Mikel Arteta has apologized for his side's second-half performance after they were beaten by Brighton and said his side don't have the answers at the Seagulls.

I think we were very disciplined. We have great clarity on how we wanted to do this. We adapted the plan when necessary to speed it up and then slow it down at times.
I think communication is essential. I think the club has been really, really good at communicating what we're trying to do, being open, being transparent.
It helped reconnect with our people and create a real sense of club, pushing in the right direction with our supporters, our staff, people across the club, and then you get momentum. You need great players who are sure to succeed and we try to improve in all areas to become better.
You talk about great players and trying to improve. Many young talents dedicate their future to Arsenal.
It will be necessary to say a few hard but necessary farewells, Granit Xhaka for example, and to further strengthen the workforce. Has planning for next season already started in this regard?
FREE TO WATCH: Highlights from Brighton's stunning win over Arsenal in the Premier League

Yeah, and the first plan is to first look at myself in the mirror and ask myself what can I do better? What can I do different? How can I re-stimulate players to deliver what is needed.
And then go through the team: are we getting the best out of each of them? We have very good things. Is this the best we can get out of it? In Europe there are no other players like [Bukayo] saka, [Gabriel] Martinelli, Martin [Odegaard]… That doesn't mean it's the ceiling.
I don't know where the ceiling is. Do they have things to improve? Yes. So we have to look for that. And then if we don't hit certain areas with certain things, everything that's not in that page that's needed to win, has to be recruited. It's that simple.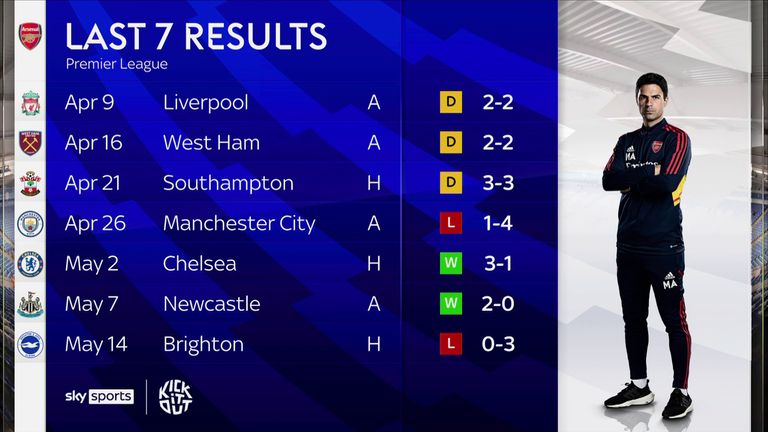 You talked about looking in the mirror, how did you feel the season changed you or changed you and helped you grow as a manager?
I'll watch it when I'm done with the season. I haven't had time to do this yet, but I will do this exercise deeply after the emotions and a bit of fatigue has come out of my system with more clarity and I will start again.
Do you already feel some sort of change within you?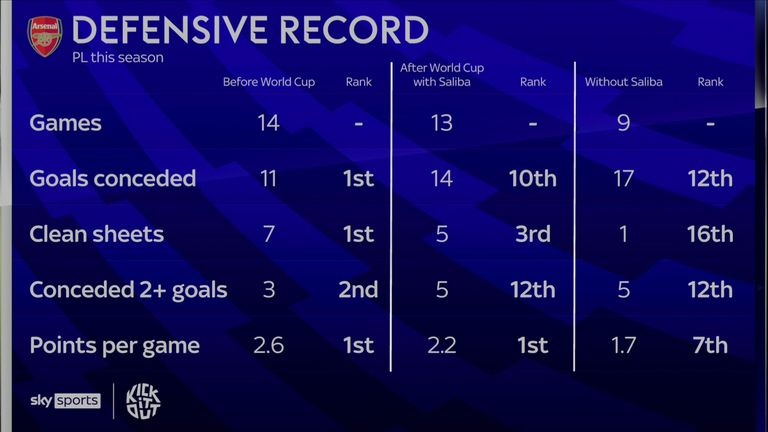 There are changes yes, we have to evolve. First personally because I have a family and my children and my wife demand different things from a year ago, two years ago.
And then because I think this club; these players, these people need a different evolution from a coach. I don't know if it's Mikel 4.3 or 5.7, but next season I need to improve, I need to update, I need to really have an idea of ​​what is needed and to try to make it happen to give the best for them.
You more than anyone will know what Arsenal have come up against this season. You were part of this Manchester City machine… How proud are you of your players, of the club behind the scenes that has pushed them for so long?
I can't be too open about it because obviously I was there four years and I know the level there, but inside I know what we've done and what we're up against , It's certain. But I leave it to others to make that judgment because coming from me is not too relevant.
What aspects of the season did you appreciate the most from your players and what they delivered?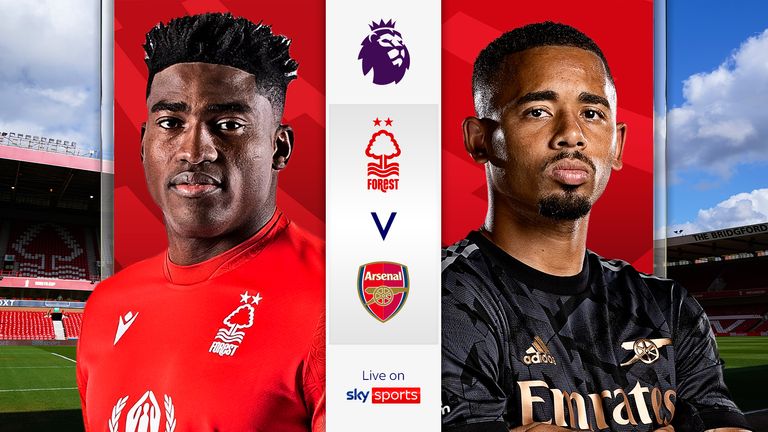 The daily essentials with them, living with them, experiencing beautiful things together. Getting through tough times together. To come to this building and have the people around me, with good energy and smiling and feeling proud to work with us every day.
That's the thing. As I leave this door one day and look back and come here, I will say we had a great time. You know, it was, it was a pleasure to work here. It was fun, it was challenging, it was inspiring and it was worth all the sacrifices we make in our lives to put in whatever we can to make the club better. That's what it's all about for me.
So would you say the thing you think you've done best here so far is change the culture, environment and norms to make it a place of fun but also substance?
Having this part with a lot of clarity that we are here to win. Yeah, playing really well and winning and making our people really proud. That's it.
Watch Nottingham Forest v Arsenal live on Sky Sports from 5pm on Saturday Night Football, kick off at 5.30pm