NASA's Orion spacecraft performed better than expected on its maiden deep-space flight despite the unexpected loss of its thermal shielding material.
During a conference call Tuesday, March 7, NASA leaders discussed Orionhistorical performance Artemis 1 mission which saw the spacecraft orbit the moon before returning to Earth after 25 days. Orion was transported to lunar orbit after launch on November 16, 2022 atop the agency's Space Launch System (SLS) rocket, the most powerful rocket ever launched.
John Honeycutt, NASA's SLS program manager, said on Tuesday's teleconference that the agency was surprised at how well the rocket and spacecraft performed during the test flight, which was the first for SLS and the second for Orion. "We continued to see outstanding performance from SLS, and it did an outstanding job and met all of our expectations and in fact exceeded most of them," Honeycutt said, adding that "analysis of Post-flight data continues to show that SLS is ready to support crewed Artemis missions."
This does not mean that every aspect of the mission went perfectly. During Tuesday's call, NASA program officials revealed that Orion's heat shield did not perform as expected, losing more material than the agency expected. Nevertheless, NASA management is confident that everything will be ready for the crewed flight around the moon of Artemis 2planned for next year.
Related: NASA's Artemis program: Everything you need to know
Howard Hu, NASA's Orion program manager, praised the performance of the crew module during the test flight, noting that NASA was able to achieve 161 overall test goals planned for the mission, even adding 21 more during the test flight. flight depending on the performance of the spacecraft.
"We also achieved our number one goal, which is to bring the crew module safely back to Earth from 24,500 miles per hour to a landing at approximately 16 miles per hour when it touched down, and we were able to land within 2.4 miles of our target," Hu said during Tuesday's teleconference. "Our requirement was 6.2 miles. So very good performance because we were able to come back from the moon."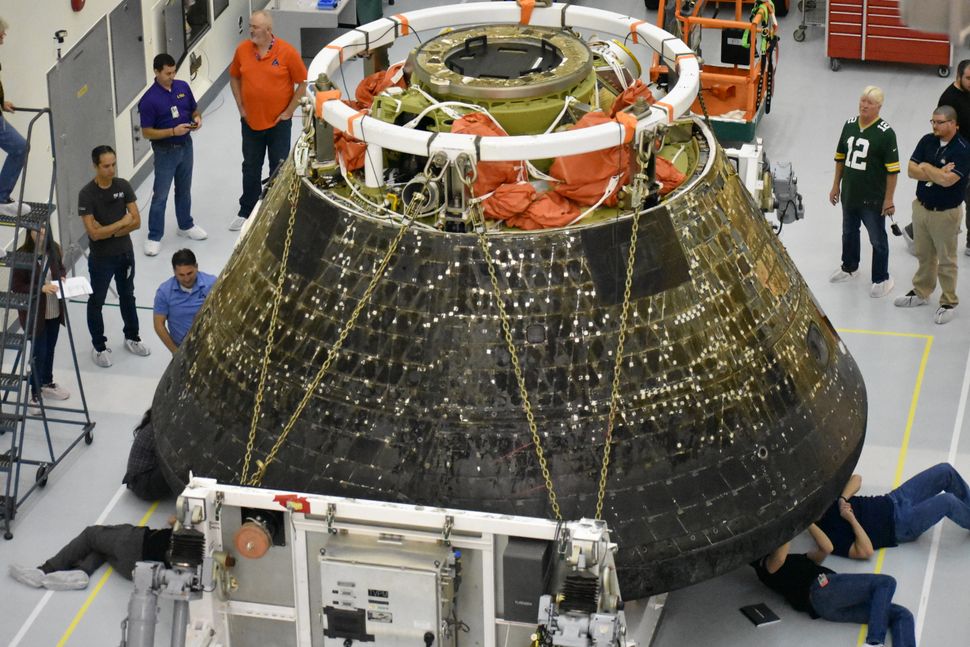 One of the main talking points on Tuesday's teleconference was the Orion spacecraft's heat shield, the the largest ever built. When Orion's crew module was inspected after the splashdown, NASA discovered much more variation in heat shield performance than it had anticipated.
"Some of the expected charred material that we would expect to come home came off differently than our computer models and our ground tests predicted," Hu said. "So we had more release of charred material on re-entry before landing than we had anticipated."
Hu explained that NASA teams are studying a wide range of data related to Orion's heat shield performance, including re-entry images and video, on-board sensor readings, and even X-ray images of material samples. taken from the shield.
"Overall, there is a lot of work to be done in this investigation," Hu said. "We're just starting this effort because we've just gathered all this information. These samples, the videos, images and data from the spacecraft itself and correlated them. And now we're evaluating this data and moving with it. this assessment.
Despite the unexpected loss and irregular charring of heat shield material during re-entry, NASA program officials stressed they are confident the Artemis 2 crewed mission can launch on schedule in 2024. .
"We're making great progress on the Orion side, so I'm very excited to complete this assessment, implement lessons learned for Artemis 2, and see the crew fly Artemis 2," said Hu.
NASA is currently aiming to launch Artemis 2 in November 2024. The mission will send a crew of astronauts for an eight-day mission around the moon and back to test Orion's performance, crew interfaces and systems of guidance and navigation.
Follow Brett on Twitter at @brettley (opens in a new tab). Follow us @Spacedotcom (opens in a new tab)Or on Facebook (opens in a new tab) And instagram (opens in a new tab).