The Nikon Prostaff P7 8×42 binoculars are a lightweight and affordable alternative to their P3 binoculars. Often, when asked which binoculars are perfect for stargazing, astronomers cite ones with at least 10×50 magnification. This makes perfect sense – the 10x magnification and 50mm aperture is an ideal combination of power and light-gathering ability. However, sometimes the insistence on 10×50 can blind potential binocular users to the capability of smaller 8×42 instruments: with their 8x magnification and 42mm aperture, this stargazing aid can present wide fields dotted with stars. The question is, do Nikon's Prostaff P7 8×42 binoculars do enough to challenge the hegemony of 10×50 instruments?
---
Nikon Prostaff P7 8×42 Binoculars Review
Nikon Prostaff P7 8×42 Binoculars: Design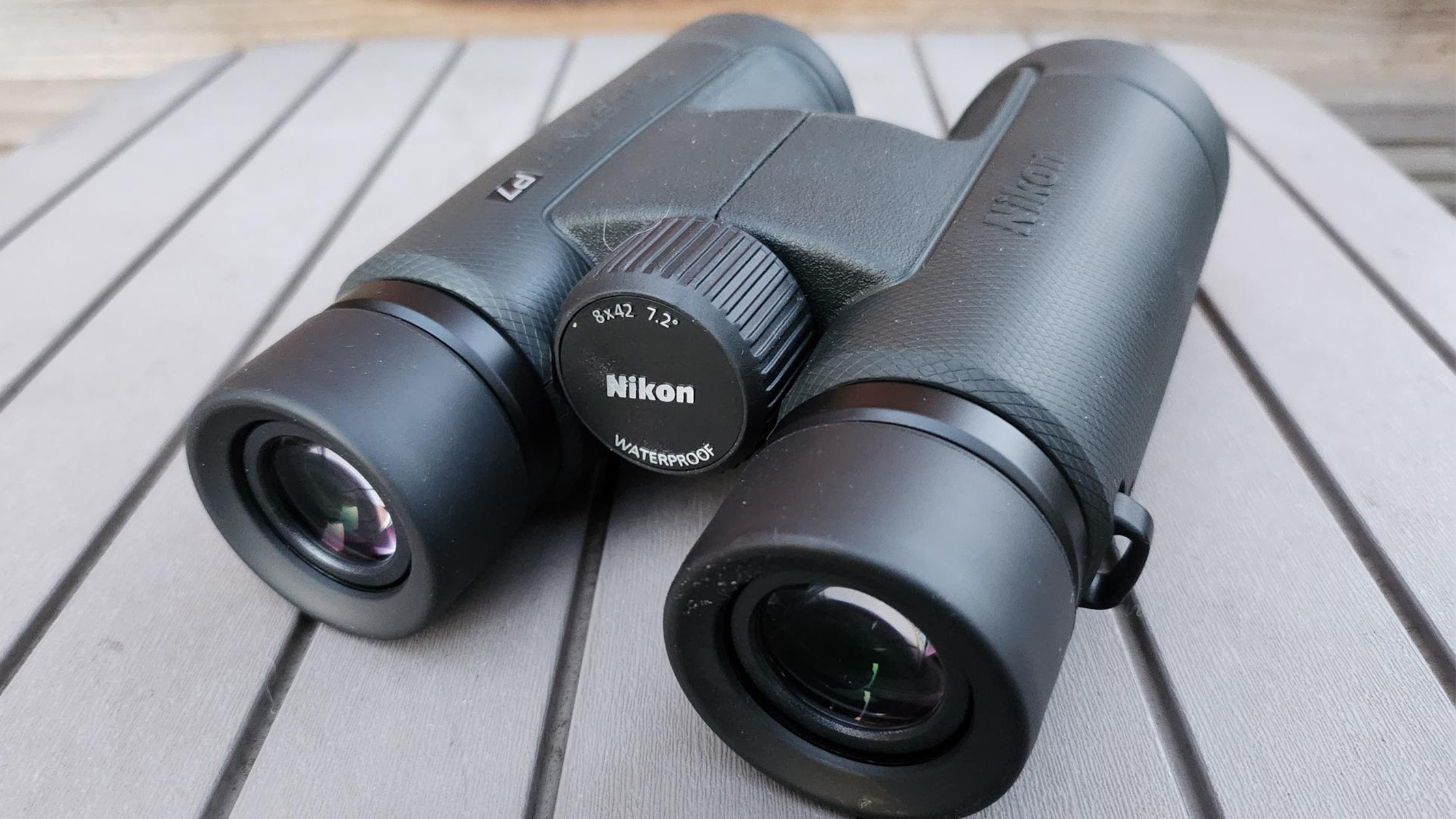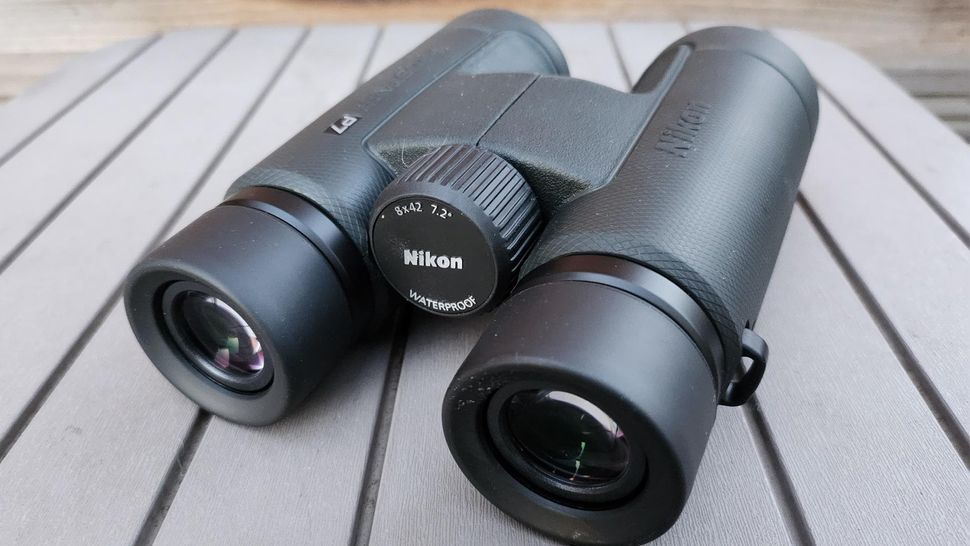 Excellent build quality
Very good eye relief
Multi-coated lenses and highly reflective multi-coated prism coating
From the first use, the Nikon Prostaff P7 8×42 binoculars impress with their compactness and robustness. Coated in a beautiful rubber surface with subtle textures to ensure a secure grip, they're a joy to handle, weighing just 21.8 oz (618 g). Your arms won't tire of holding them – a burden of heavier, larger binoculars – and they can even be easily held in one hand, making them perfect for the casual sky gazer. We were able to scan the night sky for long periods of time.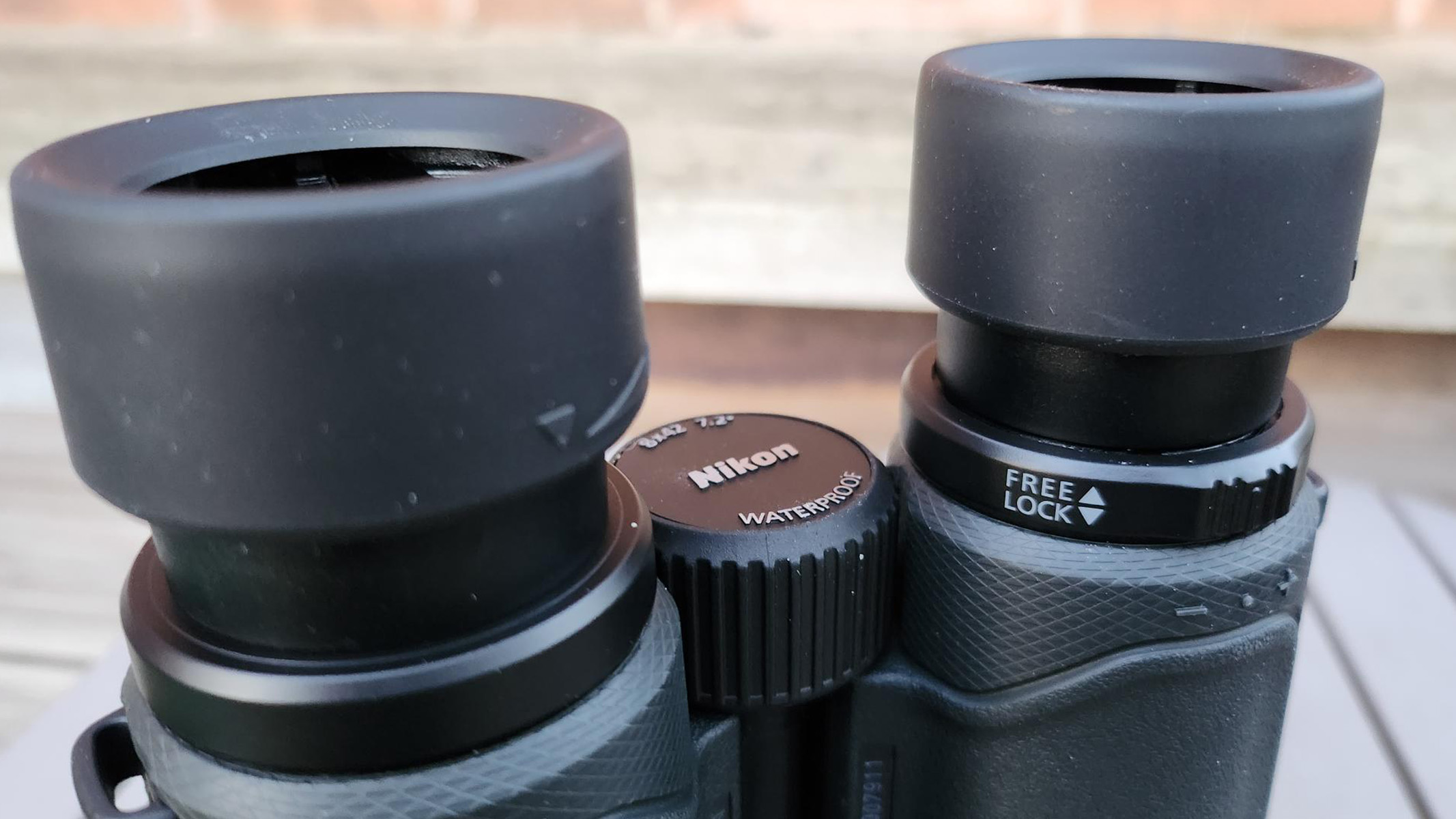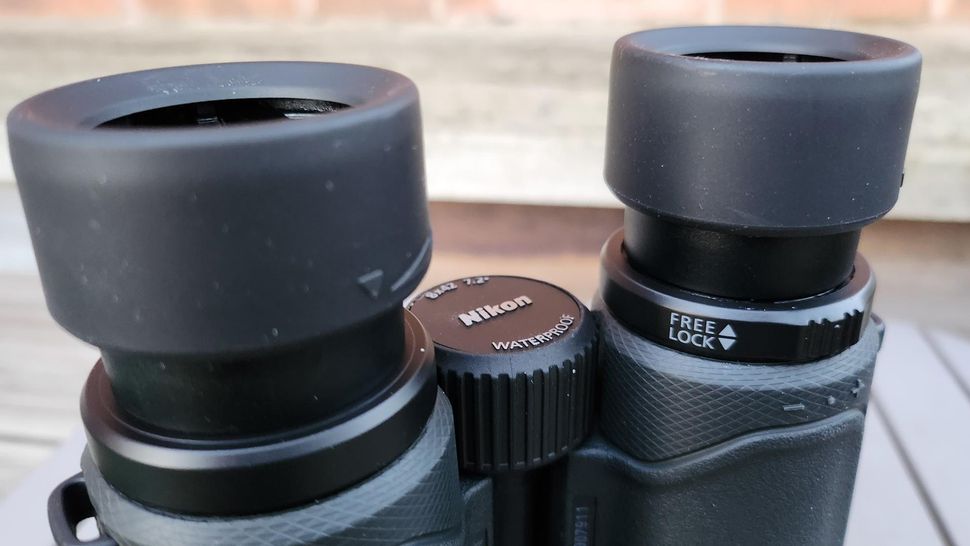 Features
Magnification: 8x
Lens diameter: 42mm
Angular field of view: 6.8 degrees
Eye Relief: 20mm / 0.79inch
Lester: 21.8oz / 618g
Eye relief on these binoculars offers a pleasant 0.79 inches (20mm), and it comes with extendable eyecups and a diopter adjustment that locks into place. We discovered that we could "save" our configuration so that we didn't have to adjust them each time we used them for sky observation. A useful feature that provided an easy grab-and-go option, as we observed for several nights and headed inside to warm up over a cup of hot chocolate during our sessions.
The Nikon Prostaff P7 8×42 binoculars come with standard accessories: a neck strap, lens caps and a cloth case. All items are of excellent quality, while the lenses are multi-coated and the prisms feature a highly reflective multi-coating.
Nikon Prostaff P7 8×42 Binoculars: Performance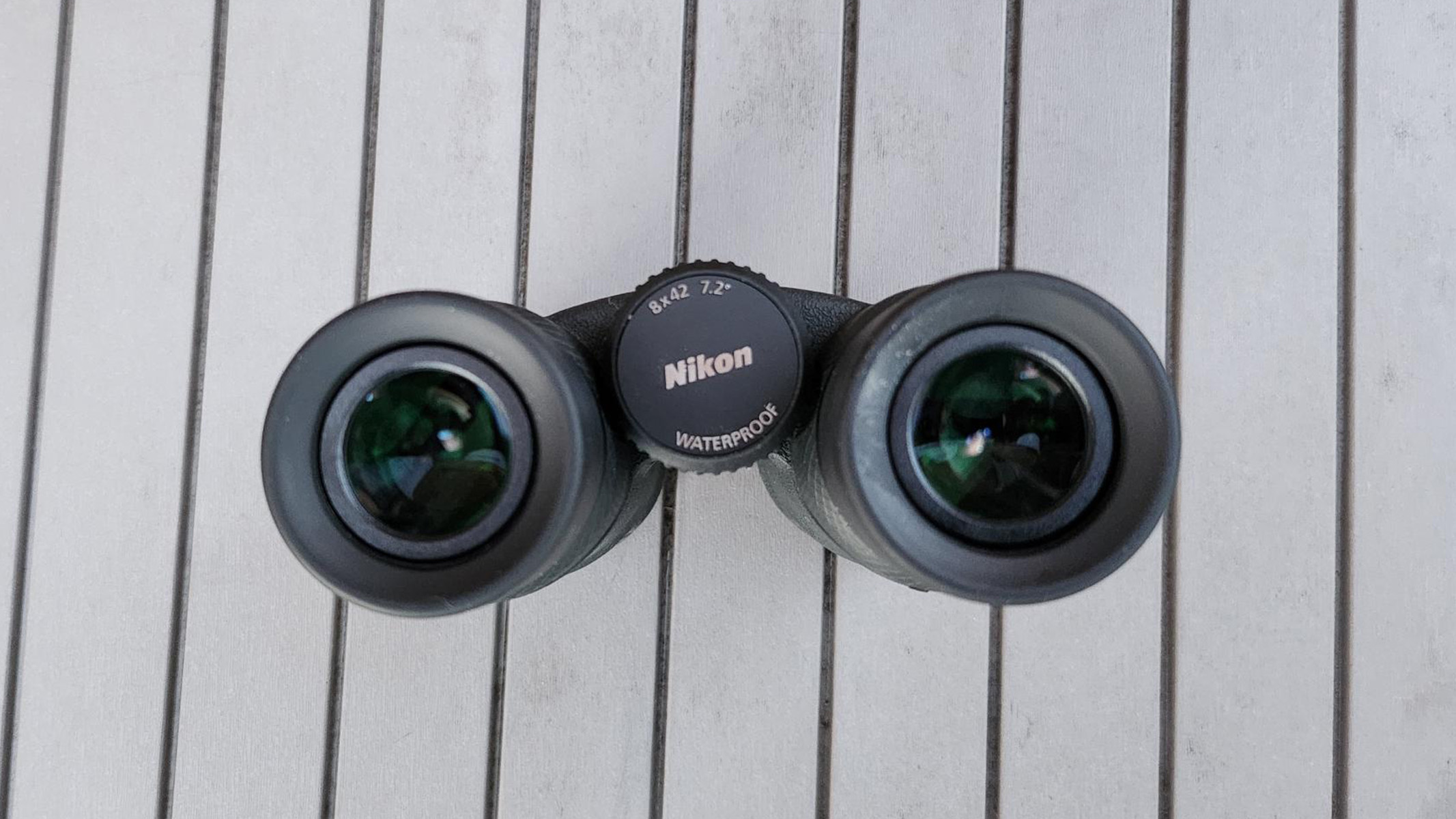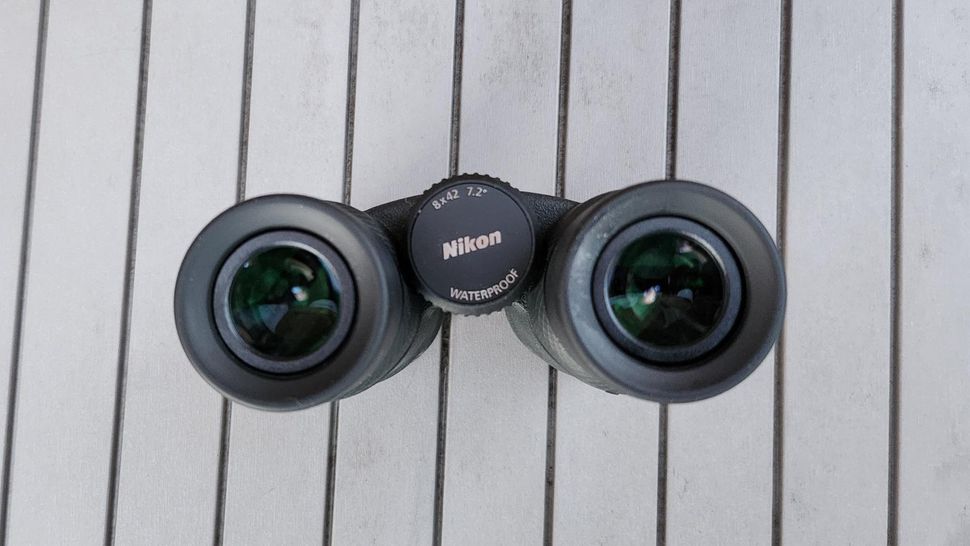 Excellent star resolution
Clearer views than Celestron UpClose G2 10×50
Able to show Jupiter and its moons
We are very used to using 10×50 binoculars, so the performance of the Nikon Prostaff P7 8×42 binoculars was a pleasant surprise.
The binoculars have a declared field of view at 1000 m (1 km/0.6 miles) of 126 m (137.8 yards) for daytime use. We can translate this into a field of vision on the night sky by dividing 126 by 17.5 (because 1 degree on the sky corresponds to 17.5 m at a distance of 1000 m), which gives a field of vision on the 7.2 degree night sky — for comparison, the full moon's angular diameter is about half a degree. We found this marvelous vast expanse as we scanned a star-strewn sky. Pointing towards Orion (the Hunter), the three stars in the Hunter's belt – Alnitak, Alnilam and Mintaka – were sharp points of light, while below them the great Orion Nebula was a white mist and foggy. Within the nebula, we were able to resolve the tight young stars of the Trapezium cluster.
We looked to the open clusters of Auriga (the charioteer) – namely Messier 36, 37 and 38 – and were delighted with their pointed, blue-white and glacier-white, if somewhat faint, stars. on a black velvet background. More stunning were the Pleiades in the constellation Taurus (the Taurus), which we found dazzling through Nikon Prostaff P7 8×42 binoculars; dozens more stars appeared in the field of view than what can be seen with the naked eye. To our delight, we were also able to detect the Merope nebula thanks to the optical system.
We compared the view of the Pleiades through the Celestron UpClose G2 10×50 binoculars that we used for the comparison. The Celestron binoculars have a claimed field of view of 6.8 degrees, so they're still pretty wide, but even the Nikon binoculars' extra 0.4 degrees were very noticeable.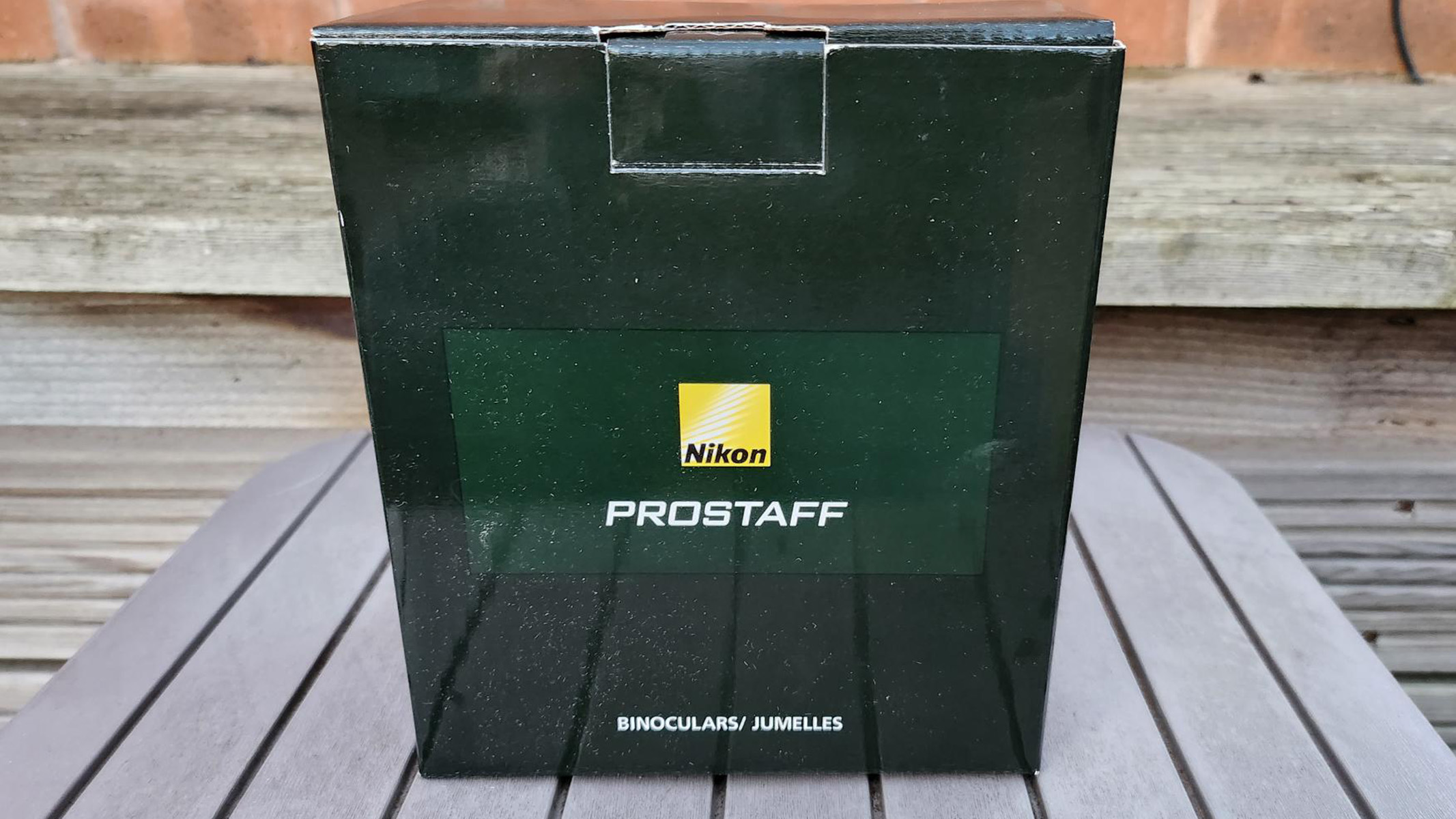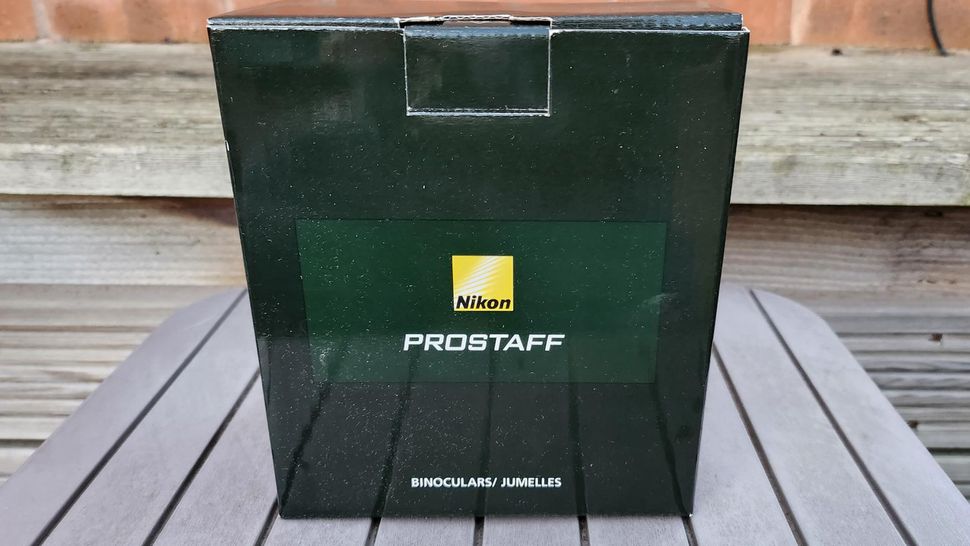 We highly recommend sitting on a reclining lawn chair and slowly scanning the star-rich Milky Way with these binoculars. We also found that the wide field means star patterns visible to the naked eye are visible through binoculars, helping us keep our bearings in starry skies. Although the images were perfectly sharp when we scanned the sky, we detected some distortion at the edge of the field of view.
When we pointed the Nikon Prostaff P7 8×42 binoculars at Jupiter, which was beginning to slide southwest at magnitude -2.1 in the early evening sky, we could roughly make out Ganymede to the right of the limbus of the gas giant. Io and Callisto, closer to Jupiter, and Europa on the opposite flank, could not be seen, being too close to the planet at the time. Interestingly, the view in the 8x42s was clearer than in the Celestron 10x50s we used for comparison, as we had difficulty distinguishing Ganymede in the larger instrument.
Overall, the Nikon Prostaff P7 8×42 binoculars belied their lower magnification and aperture to be competitive next to some (admittedly much cheaper) 10×50 binoculars.
Nikon Prostaff P7 8×42 Binoculars: Feature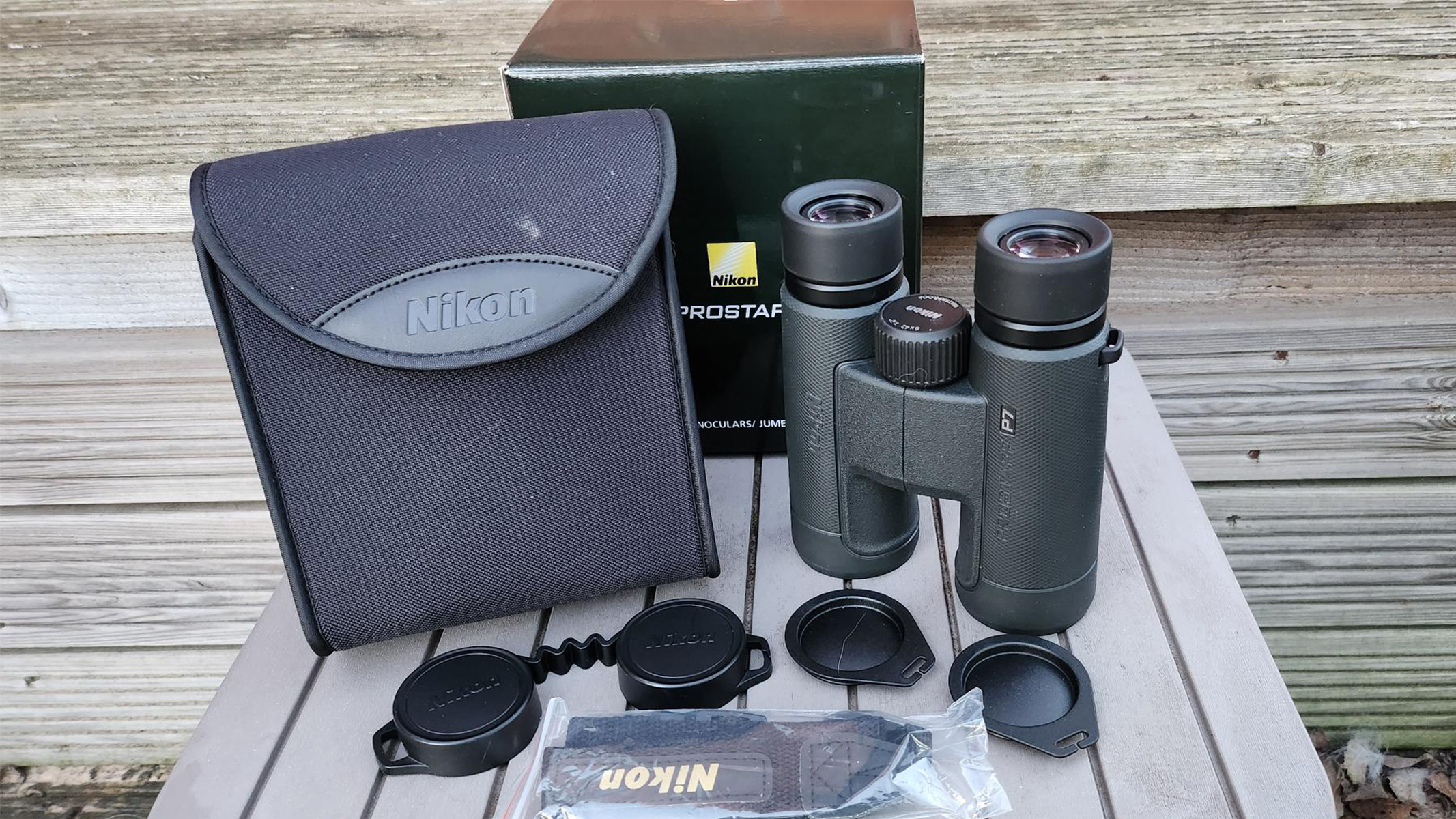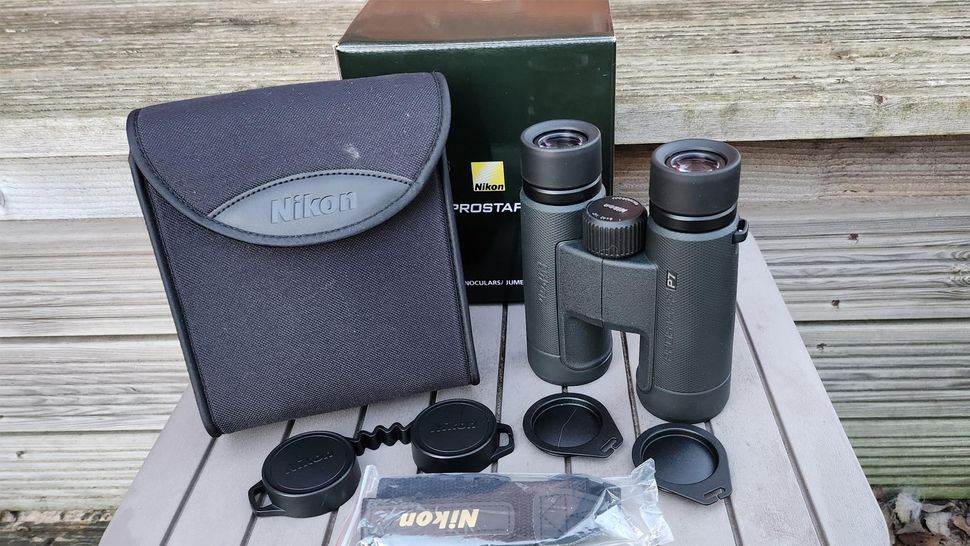 Versatile for day and night observation
Fog and waterproof
Ideal for travel
Their compact and lightweight nature, coupled with a forgiving wide field, means wobbly arm-induced shake is minimal. Within 10 minutes we discovered that our arms didn't tire holding the Nikon Prostaff P7 8×42 binoculars in the air – a huge plus for enjoyable and extended use. Meanwhile, focusing is crisp and smooth, and the binoculars stay true to focus once you hit that point.
The Nikon Prostaff P7 8×42 binoculars have another string to their bow, as they are wonderfully versatile. This is because they are primarily designed for daytime use, and distant trees, buildings, birds and planes appear perfectly clear in the field of view. If you're out in the great outdoors, perhaps on a camping vacation, the Nikon Prostaff P7 8×42 is a great companion.
Additionally, the binoculars are fogproof and waterproof to a depth of 1m for ten minutes, but if there's that much water there's a good chance the weather won't be right. astronomy anyway! This design, however, means that the optical system is very resistant to condensation and dew; something we noticed was forming when we were walking from a warm room, on a freezing night, and coming back at the end of our observing sessions.
Should you buy the Nikon Prostaff P7 8×42 binoculars?
Although the Nikon Prostaff P7 8×42 binoculars are a bit expensive – you can buy a plethora of budget 10×50 binoculars for a quarter of the price – they are somewhat worth the cost. They are incredibly well made and feel high quality when in use. Meanwhile, views through the barrels are crisp and clear.
If you enjoy scouring the skies and admiring the view of thousands of stars in an incredibly wide field, you will greatly appreciate the Nikon Prostaff P7 8×42 binoculars.
However, considering that you can get a decent GoTo beginner telescope through which you can see a lot more for an extra $100-200, you may think the price of the Nikon Prostaff P7 8×42 binoculars is a bit too high.
If the Nikon Prostaff P7 8×42 binoculars aren't for you
If the Nikon Prostaff P7 8×42 isn't for you and you're looking for something lightweight, then the Bushnell H20 8×25 (opens in a new tab) Or Celestron UpClose G2 10×25 (opens in a new tab) (the little brother of Celestron UpClose G2 10×50 we tested with almost all ratings) are great choices from our selection of best compact binoculars. They offer a sturdy design while allowing flexibility for travel, nature viewing, and occasional sky gazing, with great magnified views.
For binoculars designed for night sky observing, but at a fair budget that doesn't break the bank, the Celestron 7×50 Cometron are suitable for observing the moon, stars, bright deep sky targets and planets with very good contrast and clarity.
Meanwhile, seasoned and serious sky watchers will take great pleasure in Celestron Sky Master 25×100 And Celestron Skymaster 12×60 binoculars, which offer exquisite high definition views – and more detail of nebulae, planets and galaxies – at reasonable prices, depending on your budget. Be warned though, these beautifully constructed instruments are heavy and will require a mount and tripod for stable views.