Intestinal infections take a heavy toll on impoverished black communities that have outdated sewage systems. These infections are often spread through contaminated soil and water and are among the most common diseases in the world.
About a quarter of the world's population is infected through the soil helminthsintestinal parasitic worms that can cause serious health problems.
Besides, up to 50 percent people worldwide are infected with Helicobacter pyloribacteria that live in the stomach and can cause ulcers and cancer.
I am a biological anthropologistand it's clear to me that both of these types of infections contribute to systemic inequities in health, especially among communities of color in which limited access to medical care and inadequate sanitation systems can both increase exposure to pathogens and lead to worse outcomes.
Historically, intestinal infections have been prevalent in parts of the United States where high poverty rates and environmental factors — such as flooding and hot, humid summers — favor the spread of infection.
Although many Americans believe these diseases no longer exist except in low-income countries, research that My colleague and I conducted challenges this hypothesis.
Renewed interest in intestinal infections in the United States
Launched in 2019, the Rural Embodiment and Community Health Study started with the goal of measuring current infection rates and determining what living conditions contribute to the risk of infection.
Although national infection rates remain unclear due to the lack of large-scale studies, our preliminary work in 2019 revealed that 38% of children sampled in a predominantly black community in the Mississippi Delta had intestinal parasitic infections.
Moreover, 80% of these children showed high levels of intestinal inflammation. These levels are much higher than those observed in other populations and can lead to multiple poor health outcomesincluding impaired intestinal ability to absorb nutrients and growth retardation.
Our most recent analyzes from 2022 focused on adults living in the Mississippi Delta and southwestern Illinois, two regularly flooded areas.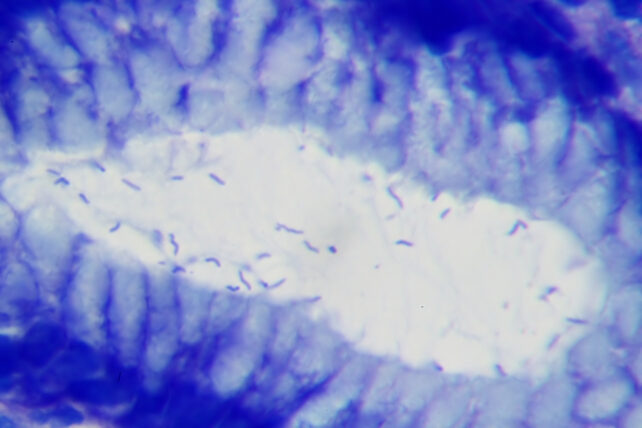 Of these adults, 73% had high intestinal inflammation, while 45 percent were infected with H.pyloribacteria that can cause ulcers and cancer.
Taken together, these findings demonstrate widespread gut infections and inflammation across all ages in these low-income, predominantly black communities.
Long-lasting intestinal infections and associated inflammation can lead to nutritional deficiencies, restricted growth, decline in educational attainment, decline in labor productivity and an increased risk of serious diseases later in life, including certain cancers).
A legal challenge in Alabama
The Rural Embodiment and Community Health Study is not alone in recognize the impact of intestinal infections on black communities. One of the the most publicized recent research studies on intestinal infections focused on the health effects of poverty and collapsing health infrastructure in Lowndes County, Alabama, an area characterized by a history of racial segregation and inequality.
The researchers found that more than 1 in 3 people tested in Lowndes County have been infected with hookworman intestinal worm spread by exposure to sewage that lives in soil and infects people by burrowing in bare feet.
This 2017 study has since resulted in legal action.
In a landmark May 2023 court ruling, the Biden administration found that the Alabama Public Health Department had discriminated against black residents by denying access to adequate sewage systems and imposing fines for resulting sewage problems.
The decision is hailed by environmental justice advocates as a transformative environmental justice agreement that can increase public awareness of the ongoing health crisis resulting from infrastructure neglect and exposure to associated pathogens.
Community activists – such as Catherine Coleman Flowersfounder of the Center for Rural Enterprise and Environmental Justice — said they hoped the federal government would continue to intervene, leading to similar results in other affected communities.
"This country's neglect of sewage treatment infrastructure in majority black communities, both urban and rural, results in a hygienic hell for far too many people, a hell that climate change only gets worse," Flowers said in an interview from March 2023.
Why are there still parasites in the United States?
The history of parasitic infection in the United States is twofold.
On the one hand, the United States succeeded in controlling many parasitic infections. Malaria is one of them.
Additionally, advances in sanitation infrastructure and housing construction mean that many Americans generally don't have to worry about parasitic infections.
But this national success is not complete, as recent findings in low-income black communities across the country demonstrate.
Limited awareness of the continued threat posed by neglected intestinal infections has made it more difficult to identify and treat these diseases in the United States than in low-income countries.
For example, in many countries, the drugs needed to treat hookworm infections cost only pennies, but in the United States, where drug prices are not federally regulated, those same drugs can cost hundreds of dollars.
The recent court ruling in Alabama represents an important step toward greater national recognition of the role gut infections play in perpetuating racial inequities in health.
Increased awareness will ideally result in better access to testing and treatment in affected communities. But more work is needed to assess the full extent of these infections in the United States.
Even though medical treatments are accessible and affordable, vulnerable people are often re-infected as these pathogens continue to spread through the environment. Structural changes are needed to break the cycle of infection and ill health.
Current federal investment in community infrastructure – including water quality – is encouraging but does not go far enough. Ultimately, a focused national effort to update and maintain sanitation systems is the best way to finally stop the transmission of infection and support health equity in the United States.

Theresa E. Gildnerassistant professor of biological anthropology, Arts & Sciences at Washington University in St. Louis
This article is republished from The conversation under Creative Commons license. Read it original article.