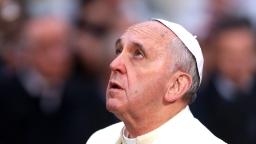 Roma, Italy
CNN
—

Pope francis updated a 2019 church law governing clerical sexual abuse and extended it to include accountability for lay Catholic leaders of Vatican-approved religious organizations.
Lay leaders are individuals other than clergy who appear on the church's professional rolls.
The norms were first defined by Francis in an apostolic letter, Vos estis lux mundi, in 2019 and were initially appointed for a period of four years.
Francis has now made minor changes to that document and made it permanent, effective April 30, according to a document released Saturday by the Vatican.
For decades, the Catholic Church has been plagued by a series of sex abuse scandals in countries around the world.
The new standards represent Pope Francis' commitment to offer "concrete measures" to combat sexual abuse.
One of the changes includes provisions to hold lay leaders of Vatican-approved associations accountable for covering up sexual abuse. Norms previously concerned only bishops and religious superiors.
Another change concerns the definition of victims of abuse, which previously referred to "minors and vulnerable persons".
The updated document now specifies "a minor, or with a person who habitually has an imperfect use of reason, or with a vulnerable adult."