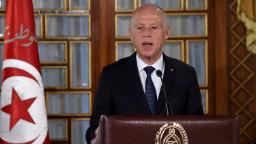 CNN
—

Several sub-Saharan countries, including Côte d'Ivoire, Mali, Guinea and Gabon, are helping their citizens return from Tunisia following controversial remarks by the country's president last month regarding illegal immigration to the country. North Africa.
At a meeting of Tunisia's National Security Council on February 21, President Kais Saied described alleged illegal border crossings from sub-Saharan Africa into the country as a "criminal enterprise hatched at the beginning of this century to change the demographic composition from Tunisia".
Saied said the continued illegal immigration aims to make Tunisia "just an African country without belonging to the Arab and Muslim worlds", adding that those behind this program are involved in human trafficking.
The African Union has strongly condemned the Tunisian government's statements, calling them "racial" and "shocking".
"The President reminds all countries, in particular African Union Member States, to honor their obligations under international law and relevant African Union instruments to treat all migrants with dignity, hence they come from, to refrain from radicalized hate speech that could harm people, and to prioritize their safety and human rights," the AU said in a statement on February 24.
Meanwhile, Ivory Coast said 145 citizens will be repatriated on Saturday, the Ivorian national news agency reported on Friday.
Mali has also announced the voluntary repatriation of its citizens from Tunisia, according to a report published Thursday by L'Essour state newspaper. Meanwhile, Guinea images posted on Twitter of the head of the junta, Colonel Mamady Doumbouya, welcoming the Guineans back to Conakry airport last Saturday and Wednesday.
Gabon's embassy in Tunisia said many migrants from sub-Saharan countries no longer feel safe in Tunisia and offered to repatriate its citizens, who have until Sunday to register for voluntary repatriation.
In another speech on February 23Saied maintained that there is no racial discrimination in Tunisia and said that "our African brothers residing legally in Tunisia" are welcome in the country.
Tunisian authorities on Friday arrested 58 African migrants after allegedly crossing the border and residing illegally in the country, state news agency TAP reported Saturday.