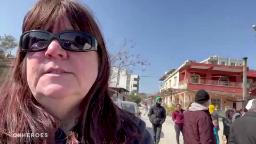 CNN
—

At her home in Anchorage, Alaska, nurse Teresa Gray was playing a board game with her children when she heard about the massive earthquake that struck Turkey and Syria on February 6.
Although she was more than 5,500 miles away from disaster, she immediately sprang into action.
Gray's non-profit association, International Mobile Doctors, sends small teams of volunteer doctors to humanitarian crises around the world. They are usually on the ground to help in the early days.
Since 2017, Gray and his group have responded to dozens of disasters, providing free medical care and comfort to more than 30,000 people on five continents. Last year she was honored as Top 10 CNN Hero For his work.
On February 7, Gray had received permission from the Turkish Health Ministry to join the relief effort, and she flew out early the next morning.
"It's pretty hectic before a mission," Gray told CNN as she made final preparations to travel. "We like to intervene as early as possible. So we will be on the ground about 72 hours after the earthquake.
She packed supplies to help hundreds of patients, ranging from traumatic bandages to antibiotics to acetaminophen. She also prepared the equipment her team would need to be self-sufficient in freezing winter conditions.
"Buildings have been significantly damaged so you can't stay inside, it's too dangerous," she said. "We are going to sleep in a tent, eat MREs (meals ready to eat)… It will not be a good time.
Gray also made a video call to contact his team, which included a paramedic from London, a doctor from Malaysia and a nurse anesthetist from Missouri. It was a turbulent time for Gray, who says she gets "hyper focused" before each mission, trying to anticipate any issues that might arise.
"We have to find a safe place to be. What if someone forgot their sleeping bag? We don't speak the language, so I need to find interpreters," she said. "These are the things that cross my mind as I prepare to go to the airport."
After an epic journey through Seattle and New York, Gray finally landed in Turkey late February 9 and met his team. They traveled to Hatay province and once there they started to organize mobile clinics in the streets of Samandag.
For Gray, the destruction she saw was difficult to comprehend.
"Just the total amount of annihilation…it's probably the greatest devastation I've ever seen on any mission we've been on," she said.
Since so many structures were unstable, the government had required all families to sleep outside in tents. In a cellphone video made on Valentine's Day, Gray described how she and her group went from street to street, stopping at tents to offer help. She said she treated people for injuries from the quake, including a girl who was trapped in the rubble for more than 12 hours, as well as illnesses like the flu that were exacerbated by the living conditions. .
"Anything they need us to look into, we'll do," she said. "Then we go home, we sleep in our car. Get up the next morning and start over.
They treated hundreds of people during their 10-day mission, Gray said. One of their performers, a high school teacher they called KT, became a vital part of their team. In a cellphone video, KT told Gray what the people they were helping told him.
"They said to me, 'Tell them (sic) thank you. It's really good for us because…we can't see any doctors, we can't go to any hospitals," KT said.
KT had also suffered a lot. Two of her students had been killed in the earthquake and the school where she taught had been destroyed. She and most of her extended family – a total of 15 people – lost their homes and were forced into a greenhouse on their property.
Despite their own struggles, KT's family adopted Gray's group as their own, Gray said — letting them stay on their property, making tea and coffee for them and sharing meals with them. Their generosity served as a further reminder that, even in desperate times, humanity shines through.
On February 19, Gray returned to Alaska. When a 6.3 magnitude aftershock hit Turkey the next day, she immediately contacted KT and others she had befriended on her trip to make sure they were all okay. GOOD. She is working to send another team of volunteers very soon.
Want to get involved? Check the Mobile Medics International website and see how to help you.