Off the Pacific coast of Costa Rica lies a deep-sea chimera of an ecosystem. Jacó Scar is a methane seep, where gas escapes from sediments into seawater, but the seep is not cold like others found before it. Instead, geochemical activity gives the scar warm water that allows organisms from both traditionally colder seeps and scorching hydrothermal vents to call it home.
An inhabitant of Scar is a newly identified species of small purplish fish called an eelfirst described on January 19 in Zootaxa. This fish is the first vertebrate species found on Scar and could help scientists understand how this unique ecosystem developed.
Science News headlines, to your inbox
Headlines and summaries of the latest Science News articles, delivered to your inbox every Thursday.
Thank you for signing up!
A problem occurred during your registration.
Jacó Scar was discovered while exploring a known field of methane seeps off the coast of Costa Rica and named after the nearby town of Jacó. It's "a really diverse place" with many different organisms living in various microhabitats, says Lisa Levin, a marine ecologist at the Scripps Institution of Oceanography in La Jolla, California.
Levin participated in one of the first expeditions to Scar but was not involved in the new study. She remembers the team finding and collecting one of the fish on that first excursion, but the researchers didn't recognize it as a new species.
Several other specimens were snagged during subsequent submersible dives. Charlotte Seid, an invertebrate biologist at Scripps who is working on a checklist of organisms found in Costa Rican seeps, took the fish finds to ichthyologist Ben Frable, also from Scripps, for formal identification.
Frable says he knew the fish was an eel. They look exactly as you would expect from their name: like frowning eels, although they are not real eels. But he had trouble determining what type. Eels are a diverse family of fish consisting of almost 300 species that can be found all over the world at different ocean depths.
Because the physical differences between species can be subtle, they're "kind of a difficult group" to identify, Frable says. "I really wasn't going anywhere." So the team turned to eel expert Peter Rask Møller from Denmark's Natural History Museum in Copenhagen, sending him x-rays, photos and possibly one of the fish specimens.
Møller reduced the enigmatic eel to the genus pyrolyc, meaning "fire wolf". It turns out that the tool, called a dichotomous key, that Frable used to identify specimens was obsolete, made before pyrolyc was described in 2002. "I didn't know that genre existed," says Frable.
Because the other two known pyrolyc species live far out in the western Pacific and have different physical characteristics, the team dubbed the mystery fish P.jaco — a new species.
The earliest eels most likely evolved in cold waters, Frable says, but many have since made their homes in the boiling waters of hydrothermal vents. Of the 24 known species of fish that live only in hydrothermal vents, "13 of them are eels," says Frable.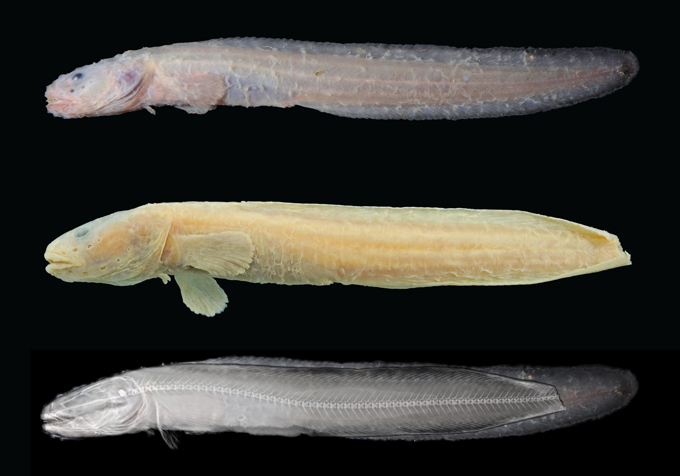 The new discovery raises questions about how the known pyrolyc species have come to live so far apart. This may be related to the fact that methane seeps are more common than previously thought on the ocean floor, and if some are lukewarm like Jacó Scar, the new species could have used them as refuges while moving towards ballast.
And comparing P.jaco to its relatives living in the vents, researchers may be able to understand how it has adapted to live in the warm waters of the Scar – which may provide clues as to how other species that live there also did.
The eel is part of a mix of other species that form the composite ecosystem of Jacó Scar, with, for example, the clams commonly found in cold seeps and the bacteria found in hydrothermal vents. Jacó Scar is a "mixing bowl" of species found in other parts of the world, says Seid. Understanding how this eclectic group interacts "is part of the fun."