To my knowledge, there are not many measures of eurozone-wide economic activity with a frequency greater than a monthly frequency. A series is the Woloszko (OECD) Weekly follow-upbased on big data and machine learning, discussed here. Post VoxEU here. This metric shows a deceleration over the week to 9/17.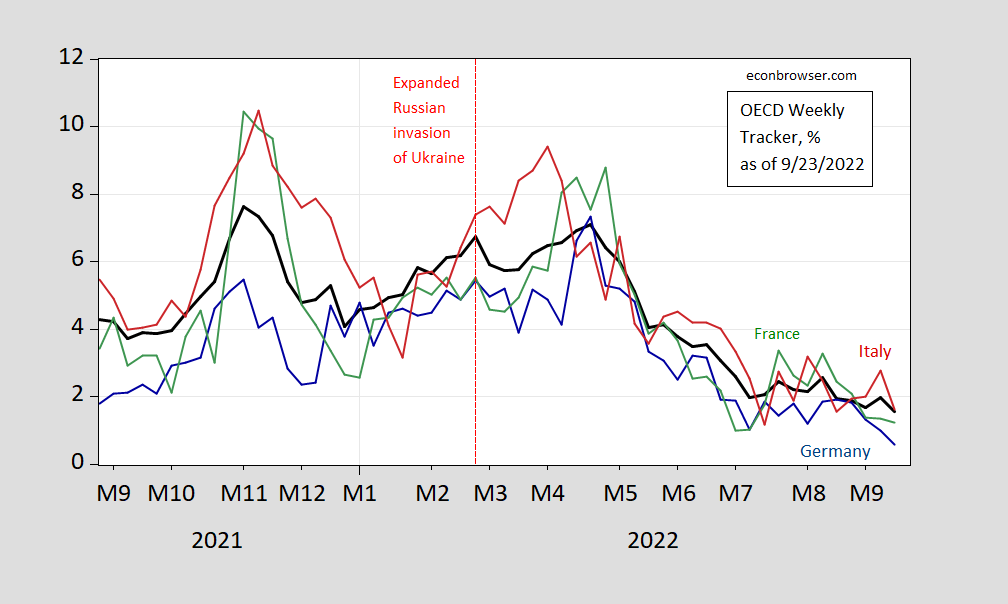 Figure 1: Woloszko (OECD) Weekly Tracker for Eurozone (black), Germany (blue), France (green), Italy (red), all in %. OECD.
The OECD Weekly Tracker reading of 1.6 is interpretable as an annual growth rate of 1.6% for the year ending 9/17. How effective is the OECD Weekly Observer for the euro area? Here is the average tracking time to comply with quarterly data.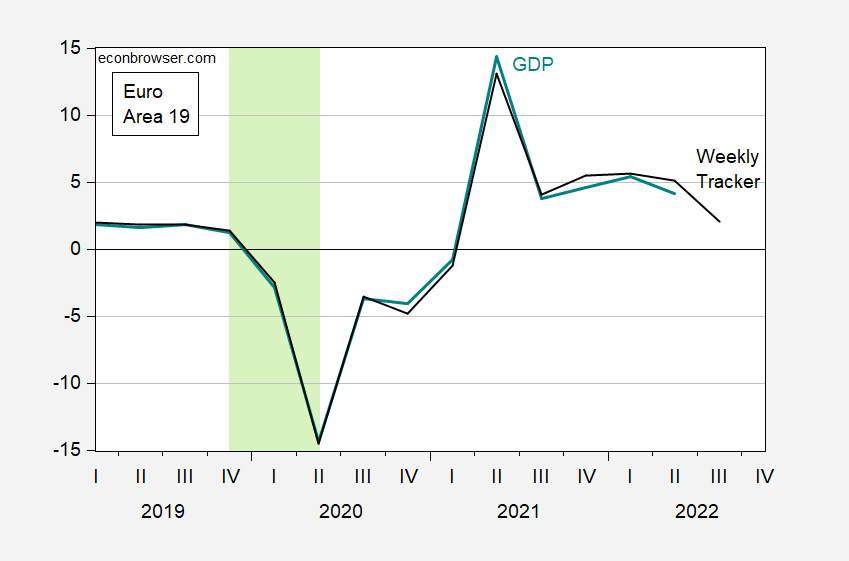 Figure 2: Eurozone real GDP annual growth (teal) and Weekly Tracker implied growth (black), both in percent. Weekly tracking for Q3 is through 9/17. CEPR has marked peak-to-trough recession dates in light green. Source: Eurostat via FRED, OECD, CEPR and author's calculations.
The Weekly Tracker tracks Q/Q annualized growth quite well for the Eurozone (not so good for the US).
What is evident is that GDP growth is slowing — down to 2%. Interestingly, the Cascaldi-Garcia, Ferreira, Giannone and Modugno Eurozone in the short term of 09/23 corresponds to a growth of 0.1% q/q, which in turn corresponds to a growth of 2.03% y/y.
(The Deutsche Bundesbank as a series for Germany, here.)
Addendum:
Interestingly, Deutsche Bank, which has just updated its forecast, forecasts a slight q/q decline in Eurozone GDP in the third quarter, and sharp declines in the following quarters, from -1, -1, 2 and -0.5 percentage point.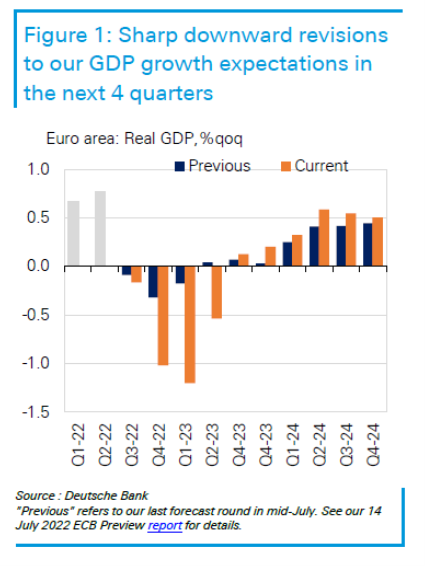 Source: Sidorov et al. "Forecast Update: Deeper Inflation Recession", Focus Europe, Deutsche Bank, September 21, 2022.