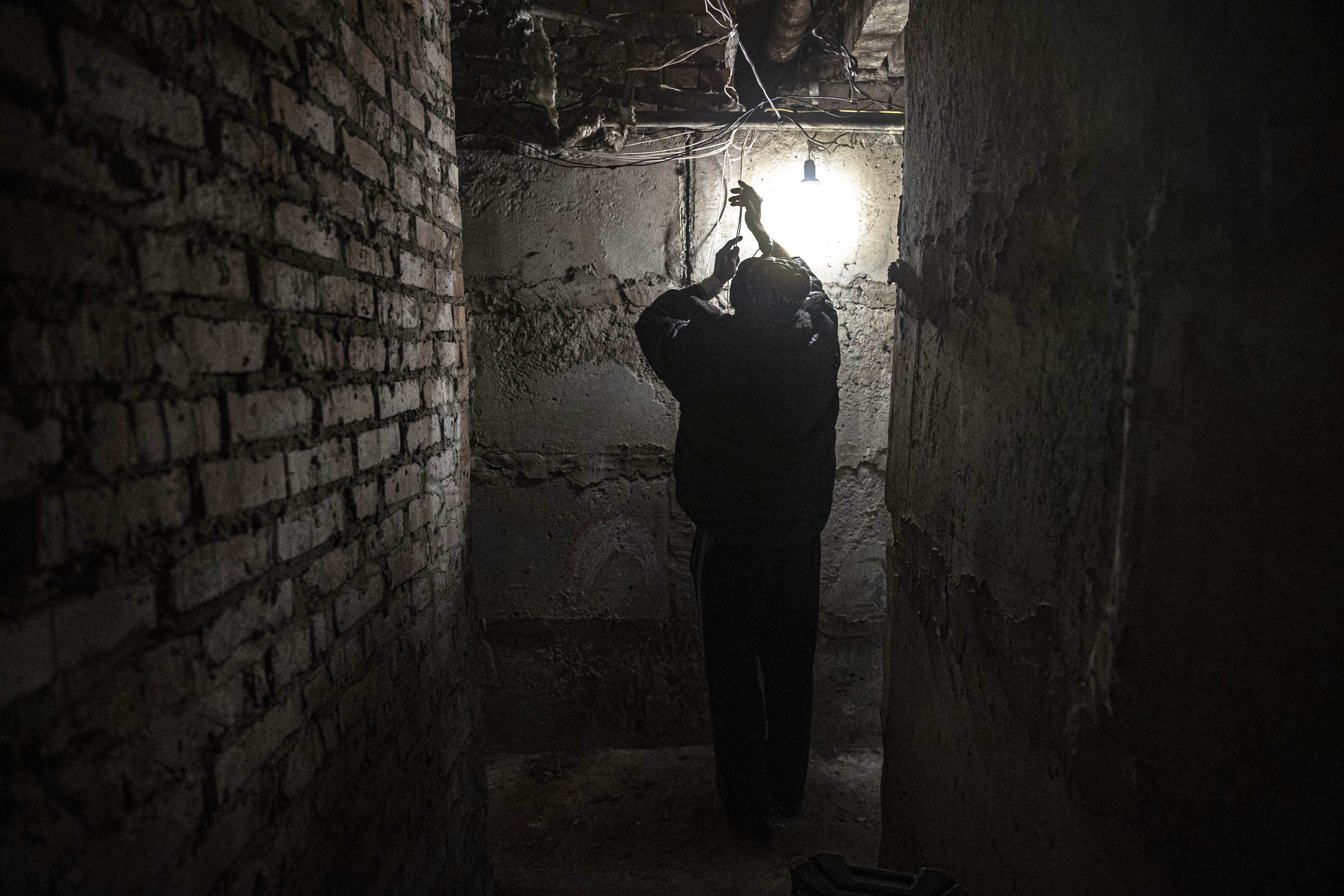 CLIMATE WIRE | It's not easy to talk about climate change and carbon-free energy when your country is a battleground.
This is the harsh reality that conservationists and clean energy companies have had to face in Ukraine following the Russian invasion. But they say renewable energy has nonetheless gained wider public support as a reliable power source amid fighting that has caused blackouts.
"The war, it seems for us, has created a new understanding of renewable energy and perhaps also created new possibilities for the further development of renewable energy," said Artem Semenyshyn, executive director of the Association of the solar energy from Ukraine.
Russia's war in Ukraine has altered global energy markets, accelerating the green transition in rich parts of Europe and forcing poorer countries to fall back on dirtier fuels like coal. In Ukraine, which has coal, gas and nuclear resources, energy close to where it is needed has become paramount.
Renewables have been valued in the short term for their resilience, with small distributed systems, like solar panels on the roof of a hospital or a house providing backup power during a grid outage, Allegra Dawes said. , a research associate specializing in energy security at the Center for Strategic and International Studies (CSIS).
The war, meanwhile, has underscored the longer-term role that renewables can play in providing Ukraine with greater energy security and helping it better integrate into the European Union as it is working to decarbonize its energy system.
During the signing of a cooperation agreement with the International Energy Agency in December, Ukrainian Energy Minister German Galushchenko called the transition to carbon-free energy a "cornerstone" for the recovery of the country's energy sector.
On February 24, 2022, the start of the invasion coincided with a test by Ukraine's national electricity company to disconnect its power supply from the networks in Russia and Belarus. This prompted Ukrainian network operators to quickly synchronize their network with that of Europe, according to analysts.
Last year's biggest challenge, however, came from Russia targeting key parts of Ukraine's energy infrastructure.
Attacks in recent months on critical power distribution substations, coal-fired power plants and other key grid elements have led to widespread blackouts, temporarily leaving millions without light, heating or water.
The war has also hurt the country's renewable energy ambitions.
Prior to the invasion, renewables accounted for more than 12% of Ukraine's energy mix and were growing rapidly. The government aimed 25 percent of the country's energy will come from renewables by 2035. Coal, natural gas and nuclear power make up more than 80% of the country's energy mix, with more than half of all electricity coming from nuclear production before the war, according to the IEA.
But the war has imposed obstacles to building large-scale solar power, Semenyshyn said. Some renewable installations have been damaged by the fighting, and much of the best potential for wind and solar installations is in the south and southwest of the country – areas that were or have been under Russian control.
What has changed is the way the public perceives renewable energy.
After the fighting broke out, Semenyshyn said there was a dramatic increase in residential demand for small-scale solar power with battery storage in areas where there were few other viable options for electricity.
At the start of the invasion, when the electricity went out, some people with residential solar panels allowed their neighbors to charge their phones and connect to the Internet to read news about the invasion or send messages to their loved ones, Semenyshyn said.
Evgeniy Yaremenko, who runs Solar Steelconstruction LLC, which installs solar photovoltaic units, said his company had started offering its stock of solar panels to everyone from soldiers who used them to charge their phones to hospitals struggling to maintain a continuous supply of electricity.
"These times, they changed people's perception," Yaremenko said, noting that his company's installation capacity is fully booked until the end of the year.
The Ukrainian Solar Association is also working to provide solar and storage systems to hospitals, especially in cities that were once under Russian occupation. Green groups like Ecoclub, an NGO based in western Ukraine, have also been involved in this effort.
Launched by university students more than 20 years ago, Ecoclub has supported municipalities to help them develop clean energy. It installed the first power station belonging to a water utility in the city of Voznesensk in 2020. This investment allowed the city to continue supplying its pumping station and providing water and sewage services to residents during the breakdowns after the start of the war.
"We see these pilots, they are a good signal for local communities to invest more in the direction of renewable energy development," said Ecoclub executive director Andriy Martynyuk.
The group has used its international connections to bring humanitarian aid to Ukraine and is now monitoring reconstruction planning to ensure local governments are ready to implement green projects.
Semenyshyn said the country needs to promote smart grids and energy systems built around residential solar. Several associations are calling for 50% of Ukraine's electricity generation to come from wind, solar and other carbon-free energy by 2030.
Like some of the country's renewable energy companies, Semenyshyn believes the war has helped accelerate the transition away from fossil fuels. But he also knows that the transition is threatened by those who might use war as a way to justify building more natural gas and coal.
"Now we are at a crossroads," he said, between rebuilding or restoring what existed before.
Officials are already encouraging green reconstruction efforts. A national recovery plan presented last July foresees spending of about $130 billion over the next 10 years for the development of green energy. Renewable energy can reduce the country's dependence on expensive and volatile fossil fuel imports, many say. But that will greatly depend on outside funding and investment, policy changes and transparency, analysts say.
The ability to generate electricity that it could then transmit to Europe could help with deployment, CSIS's Dawes said, as it could spur needed investment in Ukraine's transmission grid. But the road ahead will not be easy.
"I think we've underestimated that we also have an energy battlefield — not just the battlefield with weapons, but energy is a huge battlefield as well," Semenyshyn said.
Reprinted from E&E News courtesy of POLITICO, LLC. Copyright 2023. E&E News provides essential information for energy and environmental professionals.